The combined shipping cost will be calculated automatically by the system after you choose the shipping destination in the checkout step.
INTRODUCTION
Airis Dabble Vaporizer Kit has a built-in 900mAh capacity battery that provides plenty of powerful power. Airis Dabble has dual functions, the first is to use it as a dab pen, press a button and the device will start working, or use Airis Dabble as a hookah device, after screwing in the 14mm glass attachment and connecting the Dabble to the glass, then plug in any corresponding female connector and enjoy the amazing experience of concentrated stuff. Airis Dabble provides you with three levels of voltage, 4.2V, 3.7V and 3.4V, and the voltage can be adjusted by pressing the button three times, there are three colours corresponding to different voltages, generally speaking, the higher voltage is suitable for the more brightly coloured concentrates. The special thing is its automatic operation mode, which can easily switch between automatic heating mode and manual heating mode after pressing the power button. Pressing and holding the power button without releasing is the manual mode, and pressing it twice in a row is the automatic mode.
Airis Dabble allows concentrates to be absorbed immediately and heated evenly, thanks to its signature quartz coil technology, and the coils are easy to replace. When the device is matched with water filtration, it gives you a smooth and powerful feeling. However, do not use too much water filtration, as too much water vapour cooling will result in too much residue remaining.
Features
• 900mAh Big Battery Capacity
• Micro USB Charging
• Glass Bong Compatible
• Attach to any 14/19mm waterpipe
• 3-Levels Variable Voltages
• Use as a Dab Pen (wax vaporizer)
• Hands-free Auto Heating Mode
• Temperature Settings
• Preheat Function
• Quartz Coil Technology
• Unthreaded Atomizer Connection
• Great entry device for new dabbers
SPECIFICATION
Use for:
Concentrate only
Voltage:
Red = 4.2V; Blue = 3.7V; Green = 3.4V
Start Charging Indicator:
Plugin the USB charger, the red LED stays bright which means start charging.
Charging Port:
Micro USB Charging Port
Full Charged Indicator:
A solid red indicator light will illuminate while charging and will shut off once charging is complete.
Color:
Black /White /Gradient /Rainbow
PACKAGE LIST
1* Airis Dabble Device
1* 19mm Silicone Adapter
1* Micro USB Charging Cable
1* Stainless Steel Dab Tool
1* User Manual
1* Gift Box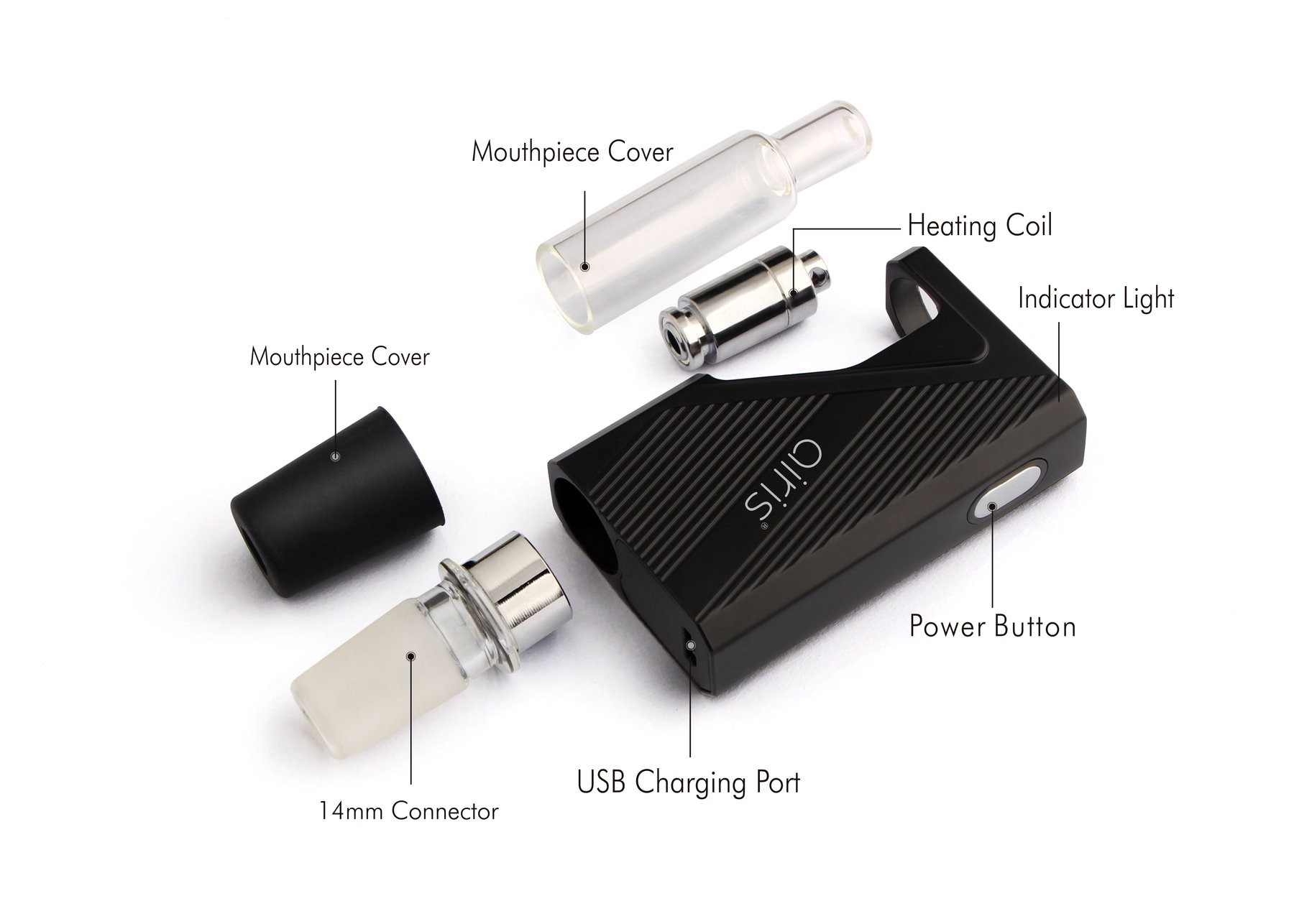 ORDERING TIPS
Attention: As the manufacturer needs the serial number to provide a replacement, we highly recommend you keep the original packing box or take picture of the code before discarding it. Thank you!