Best Vape Kits UK 2023
Nowadays, more and more electronic cigarettes are emerging on the market for vapers to use, and electronic cigarettes are gradually accepted by more people and have become a popular item for smokers, not only because of their long service life but also because of their increasingly intelligent design. It is more convenient for users to operate and customize to enhance the vaping experience. Here we will also present various types of e-cigarettes that stand out as the best vape kits 2023. Not only has excellent performance but also is popular in the market. Then please follow in my footsteps and learn about the following products:
Vaporesso Eco Nano
Vandy Vape Pulse Aio Mini
Uwell Caliburn A3S
Geekvape Aegis Boost Pro 2
Joyetech Ego Aio 2
Rincoe Jellybox V3
Vaporesso Luxe Xr Max
Rincoe Jellybox XS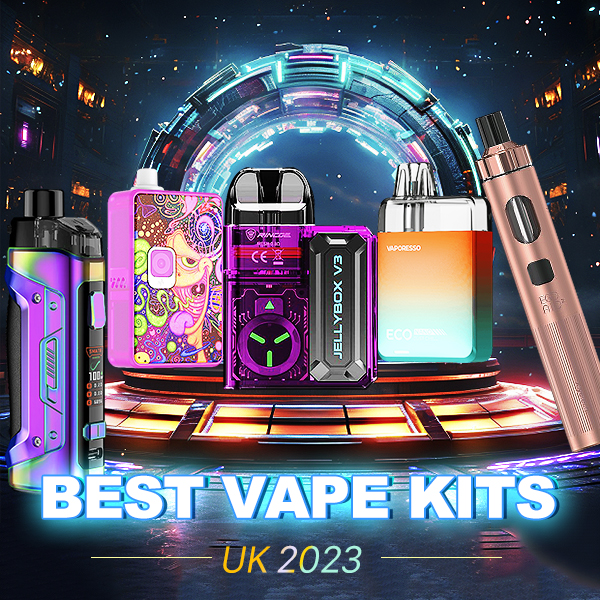 The products we will introduce next will have the following characteristics, and you can also find products that match your preferences based on these characteristics:

Stylish and Advanced Design
Intelligent operation mode
premium performance
impressive taste



Best Vape Kits(July 2023)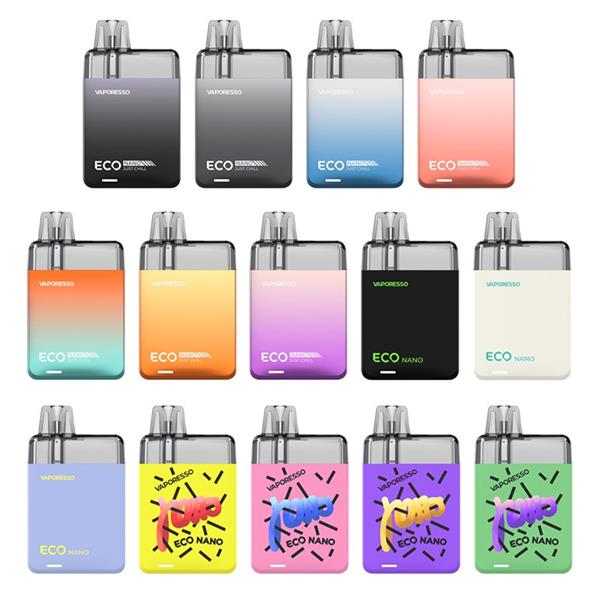 Vaporesso Eco Nano Vape Kit: Experience the pinnacle of vaping innovation with this compact and powerful device that combines cutting-edge features with an eco-conscious design.
Long-Lasting Pleasure: With an impressive 6ML pod capacity, the Vaporesso Eco Nano ensures extended vaping sessions without constant refilling. The Vaporesso Eco Nano Pod included in the kit provides the perfect match for a seamless experience.
Extended Battery Life: Embrace uninterrupted enjoyment with the 1000mAh battery capacity, providing enough power to last you an incredible 2-3 days on a single charge.
Revolutionary SSS Tech: The Vaporesso Eco Nano features state-of-the-art SSS Technology, enhancing flavour delivery and vapour production to new heights, making each puff more satisfying than the last.
Innovative COREX Heating: Discover smoother and richer clouds with COREX Heating Technology, designed to optimize heat distribution for an unparalleled vaping experience.
Eco-Friendly Packaging: Our commitment to sustainability is evident in eco-friendly packaging, minimizing environmental impact without compromising product safety.
Enduring Lifespan: Crafted with durability in mind, the Vaporesso Eco Nano is built to withstand the test of time, ensuring longevity and reliability for all your vaping needs.
Vitality in Your Pocket: Experience the perfect blend of portability and performance with the Vaporesso Eco Nano Vape Kit. Its sleek and compact design allows you to carry your vaping companion wherever life takes you.
Unmatched Puff Count: With the Vaporesso Eco Nano, savour up to an astonishing 13,000 puffs from a single pod, giving you the freedom to enjoy extended vaping sessions without frequent replacements.
Pros:
Long Lasting Pod Capacity
Advanced SSS Tech
COREX Heating Tech
Enduring Lifespan
Cons:
Limited Power Output
Non-Adjustable Airflow
No Screen Display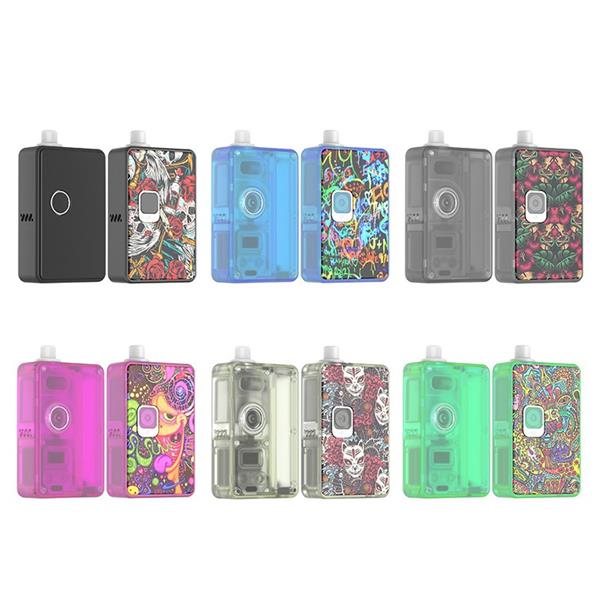 Unleash Your Creativity: The Vandy Vape Pulse AIO Mini is designed to empower vapers with a passion for customization. Its Lexan EXL1414T Polycarbonate Reinforced Body ensures durability while allowing for easy modifications, so you can personalize your vaping experience to perfection.
Versatile Coil Options: Whether you prefer convenience or building your own coils, the Pulse AIO Mini has you covered. It comes with the Vessel Pre-Made Coil Tank, offering hassle-free vaping, or you can opt for the Vessel 2 DIY RBA Tank with its innovative curved 180-degree airflow and adaptable airflow adjustment for a more tailored vape.
Power and Compatibility: The Pulse AIO Mini is powered by a single 18650 battery, providing ample power for up to 80W output. Enjoy the freedom to experiment with different wattage, temperature control, voltage, bypass, and smart modes to find your sweet spot.
Compact and Lightweight: Perfectly combining portability with performance, the Pulse AIO Mini is small and lightweight, making it a fantastic companion for on-the-go vaping.
User-Friendly Design: Featuring an adjustable positive pin, the device ensures a seamless connection with various tanks. The inclusion of both a round button and a matching inner panel adds a touch of style to your vaping setup.
Enhanced Charging Capability: With a charging current of 1000mAh, you'll experience quick and efficient charging, minimizing downtime and maximizing vaping pleasure.
Perfect Pairings: The Pulse AIO Mini is complemented by the Pulse Vessel RBA Tank, Pulse Vessel Pre-Built Tank, or VVC Coil, offering diverse options for your preferred vaping style.
Pros:
Versatility in Coil Options
Multiple Modes and Power Output
Adjustable Positive Pin
Cons:
Limited Battery Capacity
No Adjustable Airflow
Buy Vandy Vape Pulse Aio Mini Kit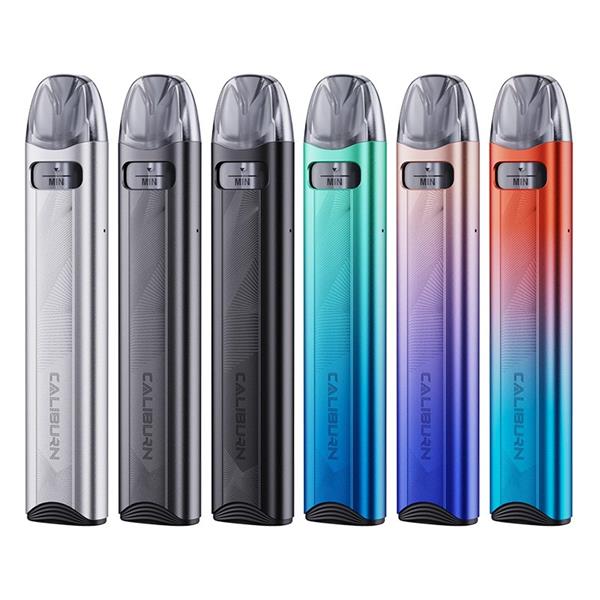 Visual E-liquid Window for Optimal Visibility: The Uwell Caliburn A3S boasts a 2ml pod with a unique visual e-liquid window, allowing you to easily monitor your e-liquid levels. Say goodbye to unexpected dry hits and always stay prepared.
Effortless Side Filling System: Refilling your Caliburn A3S pod is now a breeze with the convenient side-filling system. No more mess or hassle, just smooth and simple refills for uninterrupted vaping pleasure.
Powerful 500mAh Integrated Battery: Experience lasting performance with the robust 500mAh integrated battery. Enjoy prolonged sessions without constantly worrying about charging.
Futuristic Logo Shape Light Animation: Aesthetics meet innovation with the logo shape light animation, adding a touch of futuristic charm to your vaping sessions. Let the captivating light display enhance your experience.
Inhale-Activated Technology: No buttons, no fuss – the Uwell Caliburn A3S utilizes inhale-activated technology, ensuring instant satisfaction with each effortless puff.
Intelligent LED Indicator: Stay informed at all times with the intelligent LED indicator. Easily check the battery status, so you're always aware of when it's time to recharge.
Up to 16W of Power: With an output of up to 16W, the Uwell Caliburn A3S delivers impressive performance, producing smooth and satisfying vapour clouds.
Type-C Charge for Ultimate Convenience: Embrace the convenience of Type-C charging, providing faster and more efficient power-ups, so you can get back to vaping swiftly.
Pros:
Visual E-liquid Window
Logo Shape Light Animation
Inhale-Activated Technology
LED Indicator
Cons:
Small Pod Capacity
Limited Wattage Options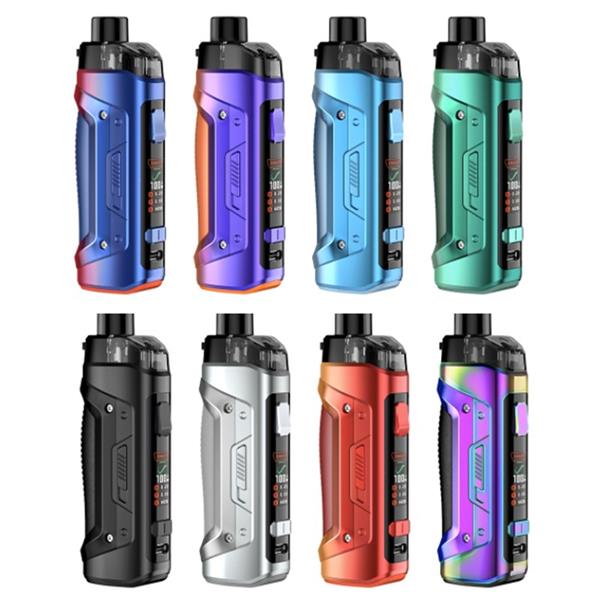 Unleash the Beast: Get ready for an unparalleled vaping adventure with the Geekvape Aegis Boost Pro 2! This powerhouse device is designed to deliver robust performance and withstand the toughest conditions, thanks to its IP68 rating. Rain or shine, the Aegis Boost Pro 2 has got you covered!
Prolonged Coil Lifespan: Say goodbye to frequent coil replacements with the P Coil featured in the Aegis Boost Pro 2. Enjoy double the coil lifespan, allowing you to savour the rich flavours and dense vapour for an extended period.
Leakproof and Top Airflow Design: No more worries about messy leaks! The Aegis Boost Pro 2 boasts a top airflow leakproof design, ensuring a smooth and hassle-free vaping experience every time.
AS-Chip 3.0 for Superior Performance: Powered by the advanced AS-Chip 3.0, this device unleashes a whopping 100W output, giving you the ultimate control over your vaping experience. The 0.96" TFT curved display provides clear and intuitive navigation.
A-Lock Design for Added Safety: The Aegis Boost Pro 2 comes with an A-Lock design, offering peace of mind against accidental firing in your pocket or bag.
4.5ml Aegis Boost Pro 2 Pod: Paired with the 4.5ml Aegis Boost Pro 2 Pod, this kit ensures ample e-liquid capacity for prolonged vaping sessions without frequent refills.
Smart Mode and Boost Mode: Enjoy a customized vaping experience with the Smart Mode and Boost Mode options, catering to both beginners and advanced vapers.
Pros:
Durable and Waterproof
Adjustable Wattage Output
Adjustable Airflow
Vibrant Display Screen
Cons:
Large Size
Non-Replaceable Battery
Buy Geekvape Aegis Boost Pro 2 Kit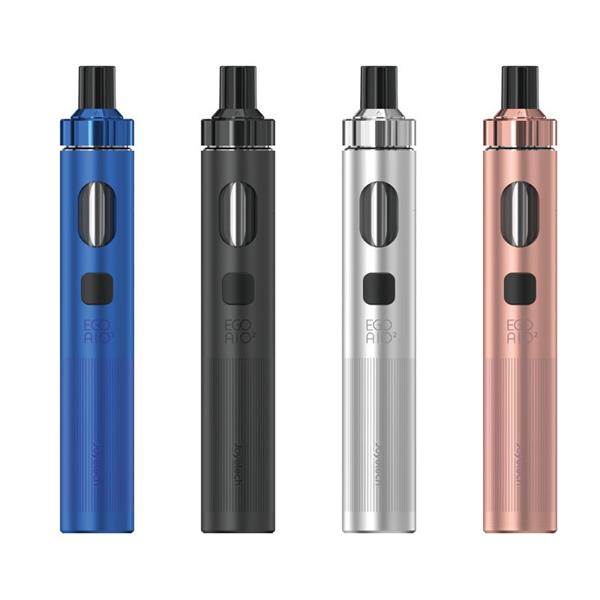 Effortless Vaping: The Joyetech Ego Aio 2 Kit is the epitome of user-friendly vaping. Equipped with a 1700mAh built-in battery, this device offers a long-lasting vaping experience, perfect for all-day use.
Seamless Refilling: With a 2ml tank capacity and a top filling system, refilling your favourite e-liquids has never been easier. The visual e-liquid window ensures you can keep track of your juice levels, while the top airflow leakproof design guarantees a mess-free vaping journey.
Battery Life at a Glance: The LED indicator on the Ego Aio 2 Kit keeps you informed about the right battery capacity, ensuring you never run out of power unexpectedly.
Quick Charging via USB-C: The USB-C charging option provides fast and efficient charging, taking at most one or a half hours to fully recharge the device.
Outstanding Coil Performance: Paired with BFC coils, the Joyetech Ego Aio 2 Kit delivers impressive vapour production and rich flavour, making each puff a delight.
Simple Activation: Activate the device with the fire button, offering you full control over your vaping sessions.
Elegance in Design: With its delicate design, the Joyetech Ego Aio 2 Kit is not only a powerful performer but also a stylish addition to your vape collection.
Pros:
Compact and Portable
LED Indicator
Top Airflow Leakproof Design
Fast Charging
Cons:
Coil Compatibility
No Temperature Control
Single Activation Method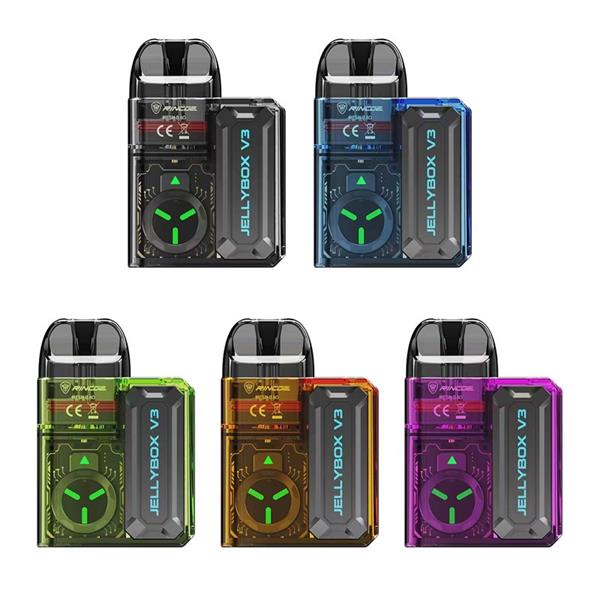 Power and Performance: The Rincoe Jellybox V3 is here to revolutionize your vaping experience! With a maximum power output of 16W, this compact and sleek device delivers impressive performance, ensuring satisfying clouds and rich flavour.
Long-lasting Battery: Equipped with a powerful 750mAh built-in battery, the Jellybox V3 keeps you vaping for extended periods without the need for constant recharging. Enjoy uninterrupted sessions and stay immersed in the pleasure of vaping.
Fast and Efficient Charging: The Type-C charging feature allows for rapid and efficient charging, getting you back to vaping in no time. Say goodbye to long charging waits and embrace uninterrupted vaping pleasure.
Brand New Jellybox V Cartridge: The Jellybox V3 comes with a brand new Jellybox V Cartridge featuring a convenient side-filling system. Enjoy effortless and mess-free refills, ensuring a hassle-free vaping experience.
Stable Output with Upgraded MCU Chip: Experience consistent and stable output thanks to the upgraded MCU chip. Say farewell to erratic performance and revel in smooth and reliable draws.
Battery Level Indicator: Stay in control with the battery level indicator, featuring different colours to indicate various battery levels. Never be caught off guard by a drained battery again!
Safety is Paramount: The Jellybox V3 prioritizes safety with its five layers of protection, including overcharging, short-circuit, over-heating, low voltage, and output over-current protection. Vape with peace of mind, knowing you're in safe hands.
Pros:
Unique Aesthetic
High Power Output
Sturdy Build
Multiple Modes
Cons:
Unable To Achieve Big Smoke
Coils Cannot Be Replaced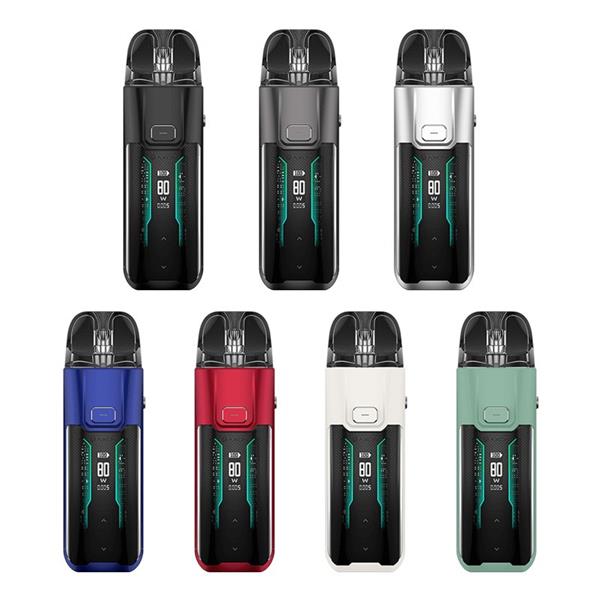 Unmatched Versatility: The Vaporesso LUXE XR Max offers the best of both worlds with its compatibility with both the 5ml and 2ml (TPD) LUXE XR Pod and LUXE X Pod. Choose your preferred capacity and enjoy a seamless vaping experience.
Powerful Performance: Powered by a robust 2800mAh built-in battery, this device delivers a maximum power of 80W, ensuring ample power for satisfying clouds and flavorful draws.
Intelligent Heating Technology: Equipped with COREX Heating Technology and the advanced AXON Chip, the LUXE XR Max guarantees intelligent and precise heating, providing consistent flavour and vapour production.
Leak-Resistant Design: The SSS Leak-resistant mechanism ensures a mess-free vaping experience, keeping your device and hands clean and dry.
Customizable Airflow: The LUXE XR Max allows you to tailor your vaping style with adjustable airflow, catering to both mouth-to-lung (MTL) and direct-to-lung (DTL) vapers.
User-Friendly Features: With a user-friendly 0.54" OLED screen and responsive +/- buttons, navigating and customizing your settings has never been easier.
Convenient Fire Button Activation: Activate your device with a simple press of the fire button, offering effortless and instant vaping pleasure.
Pros:
Versatility
Intelligent Heating Technology
User-Friendly Interface
Convenient Fire Button
Cons: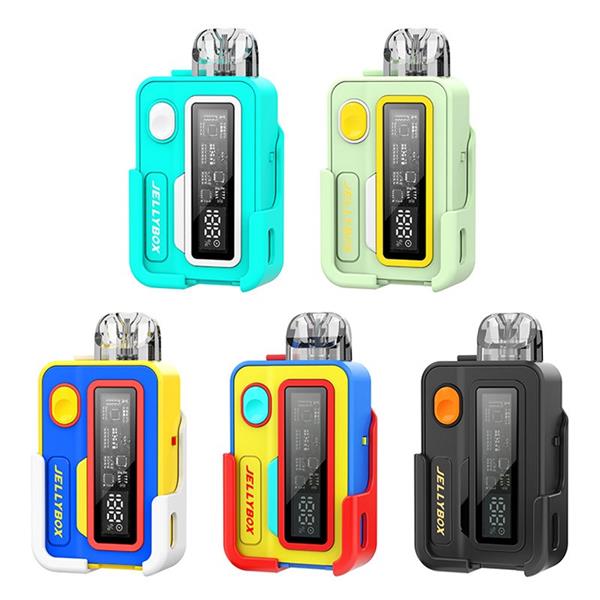 1-30W Adjustable Power: The Jellybox XS puts you in control, allowing you to fine-tune your vaping intensity from 1 to 30 watts. Whether you prefer mild flavours or intense clouds, this device has got you covered.
1000mAh Built-in Battery: Embrace longer vaping sessions with the mighty 1000mAh built-in battery. Bid farewell to constantly recharging and savouring the delightful taste of your favourite e-liquids for extended periods.
Compatible With Jellybox Nano Coils: Enjoy a seamless vaping experience with the Jellybox XS' compatibility with Jellybox Nano coils. Relish enhanced flavours and smooth vapour production that will leave you craving for more.
Advanced Jellybox 2.0 Chip: Experience rapid firing and unmatched safety with the state-of-the-art Jellybox 2.0 chip. Feel the power at your fingertips while the device ensures your safety throughout your vaping journey.
Fire Button & Type-C Charge: The user-friendly fire button makes vaping effortless and convenient. Moreover, the Type-C charging feature ensures speedy recharging for minimal downtime.
Vintage Design: Immerse yourself in nostalgia with the Jellybox XS' vintage-inspired design. Its aesthetics add a touch of class to your vaping setup, making it a head-turner wherever you go.
Both Satisfy MTL And RDL Vaping Needs: Versatility is the name of the game. The Jellybox XS caters to both MTL and RDL vapers, making it the ultimate choice for all preferences.
Pros:
User-friendly Design
Attractive Vintage Design
Long-lasting Battery
Cons:
Size and Portability
Not Easy to Carry
Conclusion: Best Vape Kits 2023 In UK
You may want to see more reviews about these products, which are also summarized for you here, or you want to know directly through the official website that we also provide it for you.
| | | | |
| --- | --- | --- | --- |
| Name | Score | Highlights | Brand Site |
| Vaporesso Eco Nano | 9.8 | Excellent heating technology and long service life | https://www.vaporesso.com/ |
| Vandy Vape Pulse Aio Mini | 9.5 | Diversified atomizers, satisfying smoke | http://vandyvape.com/ |
| Uwell Caliburn A3S | 9.6 | Easy to use and easy to operate | https://www.myuwell.com/ |
| Geekvape Aegis Boost Pro 2 | 9.5 | High level of waterproof, shockproof and dustproof, long use time | https://www.geekvape.com/ |
| Joyetech Ego Aio 2 | 9.5 | Simple design, impressive taste | https://www.joyetech.co.uk/ |
| Rincoe Jellybox V3 | 9.4 | Adjustable airflow, clearly check the data, and perfect leak-proof technology | https://rincoe.com/ |
| Vaporesso Luxe Xr Max | 9.7 | Adjustable airflow, clearly check the data, and perfect leak-proof technology | https://www.vaporesso.com/ |
| Rincoe Jellybox XS | 9.9 | Adjustable power, advanced design, agile output | https://rincoe.com/ |
FAQS About Best Vape Kits 2023 In UK
What is the difference between a pod kit and a mod kit?
Pod kits took the same principles behind the tank and mod design but configured the tank -or pod - to attach flush to the mod in a way that was more ergonomic, sleek and lightweight. The result was a device that was far lighter and more convenient to carry around for casual vapers.


What is the warranty on JellyBox?
Standard Warranty is in effect for the first 60 days after delivery. Standard Warranty is not in effect if the JellyBOX kit was sold as used, refurbished or factory seconds.


How long does the Uwell Caliburn A3s battery last on a full charge?
The high-capacity battery can last up to a full day with moderate usage. However, actual battery life may vary based on individual vaping habits.


How often should I replace the coils in the Pulse AIO Mini?
The frequency of coil replacement depends on usage and the type of e-liquids used. On average, coils may last anywhere from one to two weeks.


What is a vape starter kit?
A vape starter kit is a kit that includes everything you need to get started with vaping. It is also referred to as an e-cigarette starter kit and although there are several different types, the purpose of a vape starter kit is to make the transition from smoking to vaping as easy as possible. It is essentially a beginner vape kit with all essential items in one package, ready to use.