Best Vape Tanks UK 2023
The world of vaping offers a wide array of vape tanks, each with its unique features and advantages. Some of the best vape tanks on the market are known for their exceptional flavour production, smooth airflow, and ease of use. High-quality tanks from reputable brands like Geekvape, Uwell, and Smok have gained popularity among vapers worldwide. Whether you prefer sub-ohm tanks for cloud chasing or mouth-to-lung tanks for a more restricted draw, the best vape tanks 2023 deliver a satisfying and enjoyable vaping experience. When choosing the perfect vape tank, consider factors such as coil compatibility, e-liquid capacity, and adjustable airflow, to tailor your vaping style to perfection.
Today I want to share with you some of the best-selling e-cigarettes in 2023. The main products are as follows:
Eleaf GTL Pod Tank
SMOK TFV18 Tank
Innokin Go+ Z Tank
Geekvape Zeus Tank
Vaporesso iTank X Tank
Hellvape Dead Rabbit Solo RDA
ThunderHead Creations Blaze Solo RTA
Geekvape Z Sub-ohm SE Tank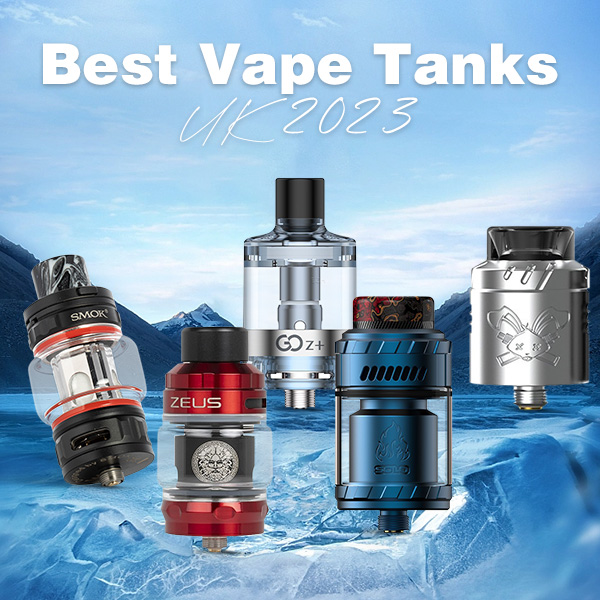 Best Vape Tanks (August 2023)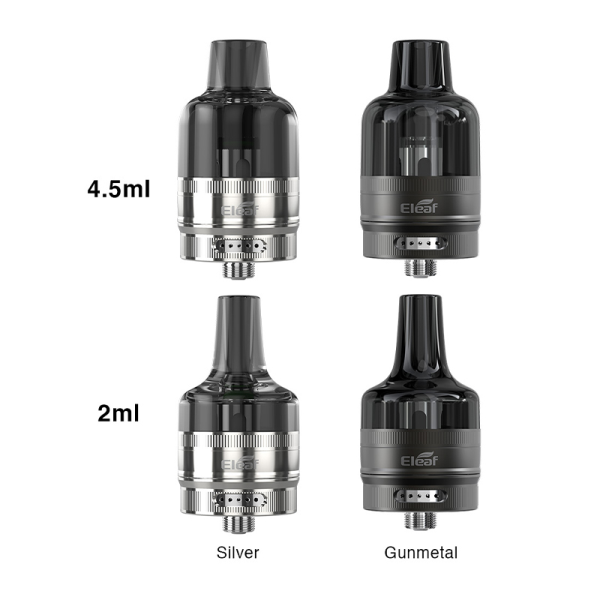 Sleek Design & Optimal Capacity: With a stainless steel construction and a generous capacity of 2ml/4.5ml, the GTL Pod Tank combines durability with ample e-liquid storage, ensuring long-lasting, uninterrupted vaping sessions.
Universal Compatibility: The GTL Pod Tank is engineered to fit all 510-threaded devices, making it the perfect companion for a wide range of vaping setups.
Precision Airflow Control: Take full control of your vaping experience with the dual-side airflow control feature. Adjust the airflow to your preference for a personalized draw that suits your style.
Effortless Refilling & Coil Replacement: Thanks to its magnetic connection, refilling and replacing coils is a breeze! Experience hassle-free maintenance and enjoy more time vaping.
Versatile Vaping Options: Whether you prefer DL, RDL, or MTL vaping, the GTL Pod Tank has got you covered. Embrace your preferred vaping style and savour every flavour note.
Premium Build Quality: Crafted from high-quality stainless steel and PCTG materials, the GTL Pod Tank ensures durability, reliability, and a premium feel in your hands.
Pros:
Adjustable Airflow
Large E-liquid Capacity
Durable Build
Cons: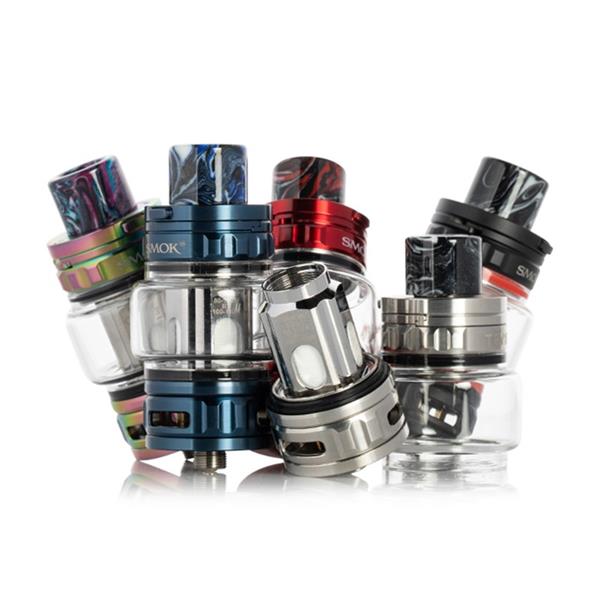 Experience Unrivaled Cloud Chasing:
SMOK TFV18 Tank, the latest addition to the renowned TFV series, is designed to take your cloud-chasing game to new heights. With its massive 7.5ml e-liquid capacity, you can indulge in prolonged vaping sessions without frequent refills, while its powerful mesh coils ensure intense flavour and thick clouds that will leave you amazed.
Innovative Airflow Design:
Equipped with an innovative airflow system, the TFV18 Tank allows precise control over your vaping experience. The adjustable dual bottom airflow design lets you fine-tune the airflow to your preferred level, whether you're into massive lung hits or a smoother, tighter draw.
Convenient Top-Fill Mechanism:
Refilling your tank has never been easier! The top-fill design of the TFV18 Tank enables quick and mess-free refills. Simply slide the top cap open and fill it up with your favourite e-liquid. Say goodbye to tedious refilling processes!
Durable and Stylish Construction:
Crafted from robust stainless steel, the TFV18 Tank ensures durability and longevity. Its sleek design not only looks great on any mod, but it also features a wide-bore resin drip tip, providing a comfortable and stylish vaping experience.
Compatible with Multiple Coils:
The TFV18 Tank offers versatility by supporting a wide range of coil options. Whether you prefer the mesh coils for maximum vapour production or the dual mesh coils for a balance of flavour and clouds, this tank caters to all your vaping preferences.
Pros:
Outstanding Cloud Production
Flavorful Hits
Adjustable Airflow Control
Cons: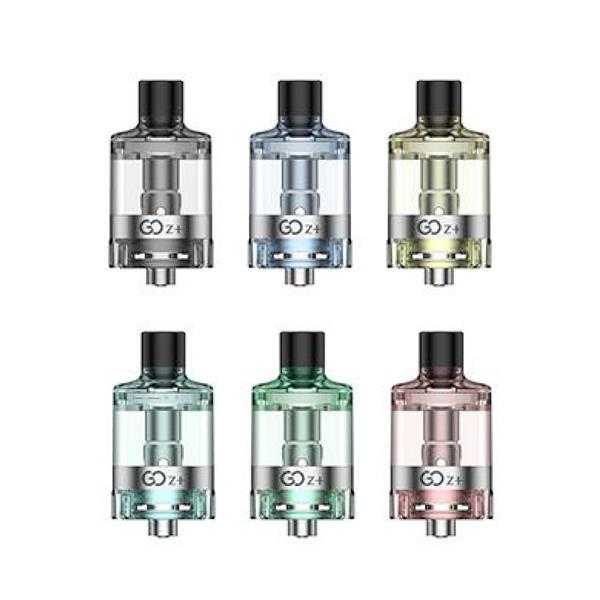 Discover Enhanced Vaping with Innokin GO Z+ Tank: The Innokin GO Z+ Tank is your gateway to an exceptional vaping experience! Specifically designed for the Innokin Gozee Kit, this tank promises a seamless and delightful vaping journey like never before.
Impressive Capacity & Easy Refills:
With a generous 3.5ml e-liquid capacity, the GO Z+ Tank ensures longer vaping sessions without frequent refills. Thanks to the easy sliding top fill mechanism, replenishing your favourite e-liquid has never been easier - just slide, fill, and you're good to go!
Versatile Compatibility & Airflow Control:
The tank features a standard 510 connection, making it compatible with a wide range of devices. The adjustable airflow design allows you to customize your draw to perfection, catering to both DL and MTL vaping styles.
Superior Build & Exquisite Design:
Crafted with precision, the Innokin GO Z+ Tank boasts a 24mm diameter and a sleek, stylish appearance. Its solid construction ensures durability, making it a reliable companion for your vaping adventures.
Optimized Coil Performance:
Paired with the Innokin Zenith / Z Coils, the GO Z+ Tank delivers outstanding flavour and satisfying vapour production. Immerse yourself in rich, full-bodied flavours with every puff.
Vibrant Colors to Suit Your Style:
Choose from a stunning array of 7 colours to match your personal style and preferences, adding a touch of individuality to your vaping setup.
Pros:
Easy Sliding Top Fill
Optimized Coil Performance
Sturdy Build Quality
Cons: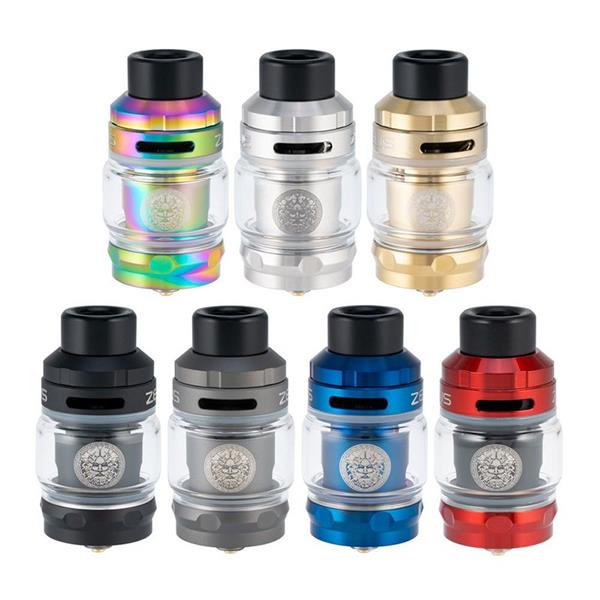 Maximized E-Juice Capacity and Easy Refills
With a generous 5mL maximum e-juice capacity and an easy top-fill design, the Zeus Tank ensures you can enjoy longer vaping sessions without constant refills. The upgraded fill port design minimizes liquid spillage during refills, keeping your experience mess-free and hassle-free.
Dual Airflow for Enhanced Flavor
The Zeus Tank innovates airflow with a combination of both direct top airflow and top-to-bottom airflow systems. Experience precise control over your vaping experience with top adjustable airflow featuring dual slots, allowing you to fine-tune your airflow to perfection.
Geekvape Mesh Coil for Flavor and Clouds
Featuring the renowned Geekvape Mesh coil, this tank delivers pure and robust flavour alongside impressive clouds. Enjoy the perfect balance between rich taste and satisfying vapour production with every puff.
Quick Slide Coil Replacement
Say goodbye to downtime with the quick slide coil design. Replacing coils is a breeze, ensuring you spend more time enjoying your vape and less time on maintenance.
Personalized Drip Tip
Topped with a wide-bore 810 drip tip, the Zeus Tank offers a personalized touch to your vaping experience. Enjoy comfort and style as you savour your favourite e-liquids.
Pros:
Top Airflow Design
Easy Top Fill
Quick Slide Coil Replacement
Cons:
Cleaning and Maintenance
Coil Compatibility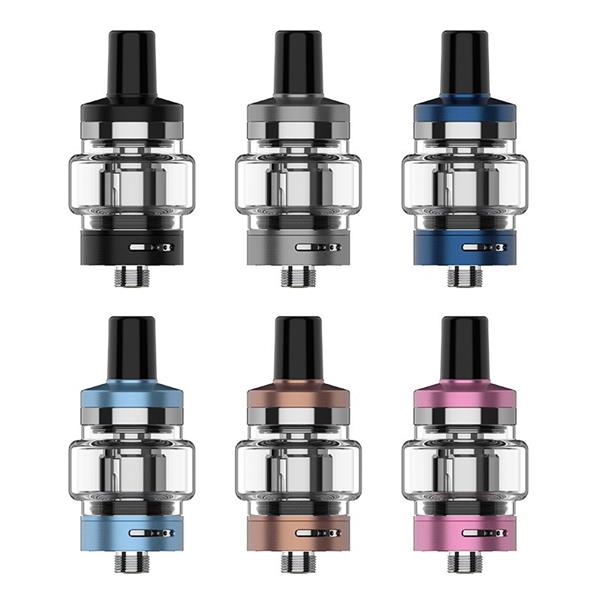 Innovative Liquid Circulation for Optimal Flavor
Featuring a unique combination of top filling and bottom liquid self-circulation system, the iTank X ensures consistent and efficient e-liquid distribution. This results in enhanced flavour and vapour production, giving you a satisfying vape every time.
Advanced Leak Resistance Technology
Thanks to the SSS Leak-resistant Technology, worries about leaks become a thing of the past. You can enjoy your vaping sessions with confidence, knowing that your device is designed to prevent leakage and keep your setup mess-free.
Versatile Coil Compatibility for Customized Vaping
Experience true versatility with the iTank X as it is compatible with all GTX coils. This means you can tailor your vaping experience to your preferences, whether you seek intense flavour or impressive cloud production.
Precise Airflow Control
Fine-tune your vaping experience with the adjustable airflow ring. Personalize the amount of airflow to suit your desired draw, providing a smooth and satisfying inhale every time.
Seamless Connection
The 510 connection ensures a seamless attachment to your device, maintaining a secure and stable connection for uninterrupted vaping pleasure.
Pros:
Adjustable Airflow
Enhanced Flavor and Vapor Production
Stable Connection
Cons:
Complexity
Size and Aesthetics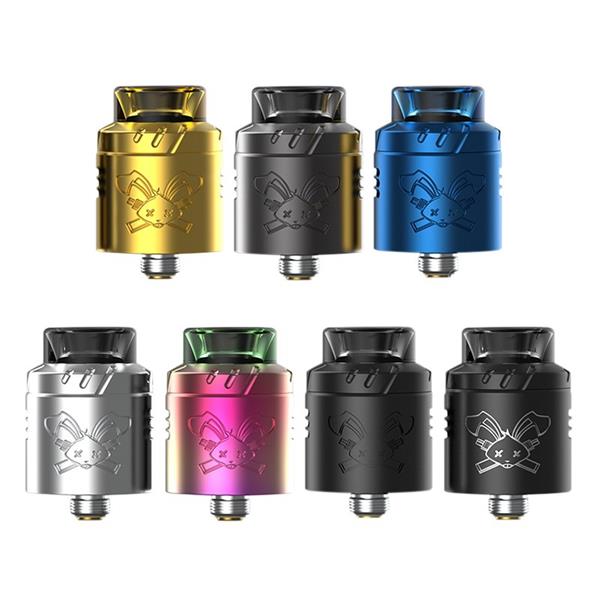 Compact Design, Big Performance
With a diameter of 22mm, the Dead Rabbit Solo RDA combines a compact form factor with remarkable performance. Its single coil build deck is optimized for flavour, allowing you to extract the most nuanced notes from your favourite e-liquids.
Customizable Airflow
Experience vaping your way with the flexible airflow control. Tailor the airflow to your preferences for a satisfying inhale and dense vapour production. The innovative bottom-up airflow design further enhances the overall flavour profile.
Innovative Honeycomb Airflow
The 30 φ1.2mm honeycomb holes add a touch of innovation to this RDA, ensuring smooth and consistent airflow distribution across your coil, leading to richer flavours and satisfying clouds.
Drip Tip Versatility
Equipped with an 810 drip tip and a 510 adapter, the Dead Rabbit Solo RDA allows you to choose your preferred style and comfort level, offering a personalized touch to your vaping sessions.
Squonk-Friendly Design
Designed with convenience in mind, the Dead Rabbit Solo RDA includes a bottom feed (BF) pin for squonking enthusiasts, making it an ideal choice for those who enjoy a mess-free and efficient vaping experience.
Pros:
Flavour Performance
Airflow Customization
Honeycomb Airflow
Cons:
Limited to 22mm
Single Coil Only
Buy Hellvape Dead Rabbit Solo RDA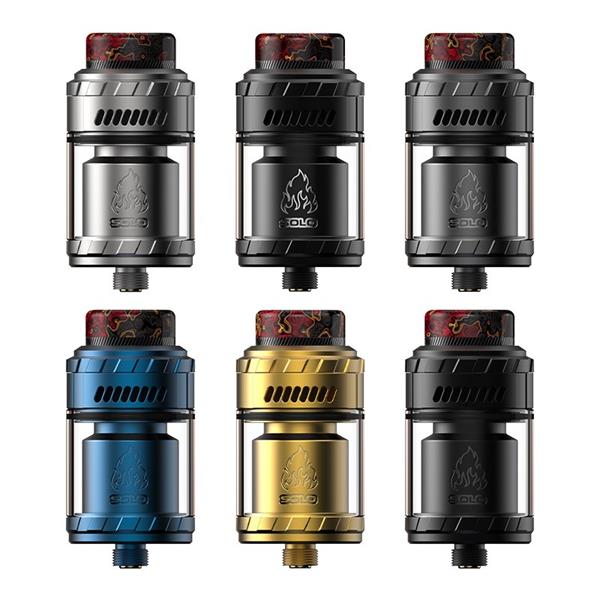 Amplified Vaping Capacity
Choose between a 3.5ml vape juice capacity or the enhanced 5.5ml bubble tank, offering extended vaping sessions without constant refills.
Effortless Refills
The convenient top-filling system ensures that refilling your e-liquid is quick and hassle-free, keeping your experience smooth and uninterrupted.
Innovative "W" Build Deck
Discover the "W" Build Deck, expertly designed for single coil configurations, optimizing flavour and vapour production for a truly satisfying vape.
Precise Airflow Control
Experience the magic of top-to-bottom airflow design complemented by 14 honeycomb side airflow and slotted bottom airflow, resulting in a fully customizable inhale tailored to your preferences.
Leakproof Design for Reliability
Embrace peace of mind with the leakproof effect, keeping your setup clean and mess-free while you enjoy uninterrupted vaping pleasure.
Customizable Drip Tip
Topped with an 810 drip tip, the Blaze Solo RTA offers comfort and customization, letting you enjoy your vape in your own style.
Pros:
High-Quality Material
Innovative "W" Build Deck
Leakproof Design
Airflow Customization
Cons:
Limited to 510 Drip Tips
Single Coil Limitation
Buy ThunderHead Creations Blaze Solo RTA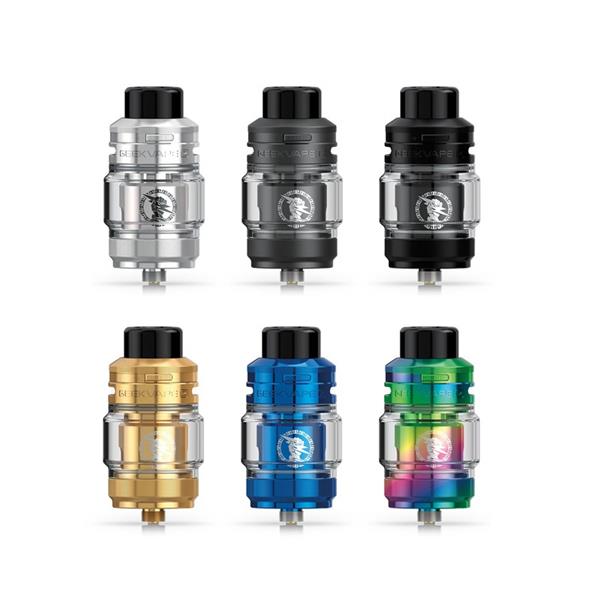 Advanced Features for Ultimate Enjoyment
The Childproof Lock ensures safety while maintaining ease of use, making it an ideal choice for vapers of all levels. The Z Coil boasts a double service life, guaranteeing prolonged flavour and performance.
Leakproof, Flavorful Vaping
Experience leakproof vaping with the top airflow system, complementing the 2ml capacity and top fill design for effortless refills. The adjustable airflow lets you fine-tune your draw, enhancing your flavour and cloud production.
Personalized Style and Comfort
Crafted for both aesthetics and comfort, the 810 drip tip enhances your vaping pleasure. The colourful and stylish design adds a touch of personality to your setup.
Pros:
Childproof Lock
Extended Coil Lifespan
Convenient Top Fill System
Cons:
Buy Geekvape Z Sub-ohm SE Tank
Conclusion: Best Vape Tanks 2023 In UK
Through the detailed introduction of the atomizer, I believe you have a better understanding of each product. Of course, we have also summarized the more streamlined features in the form of the following table to provide you with more valuable information.
FAQS About Best Vape Tanks 2023 In UK
Is RTA tank better than sub ohm?
RTA vape tanks offer better control to the vaper to avoid spilling and wasting e-juices. Wicks that come with stock coils need replacements sooner and consume more money compared to of RTAs. Battery performance: Sub-ohm vaping can potentially consume a lot of battery power, especially on high-wattage coils.


What is a GTL tank?
The Eleaf GTL Pod Tank is sleek, stylish, and versatile. With a 510 connection, the GTL Pod Tank can be used with a wide range of vape mods and batteries and features a fully adjustable airflow to control the vaping experience to suit personal preference.


What is the recommended wattage range for the TFV18 coils?
The recommended wattage range varies depending on the coil you're using. For instance, the TFV18 Dual Mesh Coil performs best within the range of 80W to 140W, while the TFV18 Meshed Coil excels between 80W to 140W.


Can I use the Geekvape Zeus Tank with nicotine salts?
While the Geekvape Zeus Tank is optimized for sub-ohm vaping, it's generally not recommended for use with nicotine salts due to their higher nicotine concentration.


Can I use the Dead Rabbit Solo RDA on any mod?
Absolutely! The Dead Rabbit Solo RDA features a standard 510 connection, ensuring compatibility with a wide range of mods available in the market.