Brand: Green Fire
Unit: set
Type: Vaporizer

Net Weight: 110(g)
The combined shipping cost will be calculated automatically by the system after you choose the shipping destination in the checkout step.
INTRODUCTION
Green Fire Origin II is made from medical-grade materials and is both stylish and ergonomic for a comfortable grip. Green Fire Origin II acts as a 2-in-1 vaporizer and is compatible with dry herbs and waxes and can store up to 0.6g of herbs. The metal bottom tray has a built-in 2200mAh battery to support a long battery life. The body is equipped with an LED light to show the status of the battery. The device can be activated by clicking the power button 5 times. Green Fire Origin II has 5 temperature settings from 356°F in increasing degrees to 428°F, so you can experience a tastier vapour and a more complete experience with more even heating of the herbs. And the temperature reached is sensed by vibration, which is very thoughtful and intelligent. On the outside of the body, there is an isolated air duct with borosilicate glass to provide the smoothest vaping.
Features
• 2 in 1 Vaporizer for Herb and Wax
• 2200mAh Built-in Battery
• Include Wax Chamber
• 5-Level Temperature Adjustment
• Smart Vibration Function
• Ceramic Heating Chamber
• Mouthpiece with Anti-scalding Protection
• Isolated Air Path with Glass Material
SPECIFICATION
Size:
123mm x 28mm x 25mm
Battery Capacity:
2200mAh
Chamber Type:
Ceramic Heating Chamber
Chamber Capacity:
0.4g - 0.6g
Vaporizer Compatibility:
Dry Herb / Wax
Temperature Adjustment:
5-level from 356°F to 428°F
PACKAGE LIST
1 x Green Fire Origin II Vaporizer
1 x Seal Ring
1 x Ear Spoon
1 x Brush
1 x Filter Screen
1 x USB Charging cable
1 x User Manual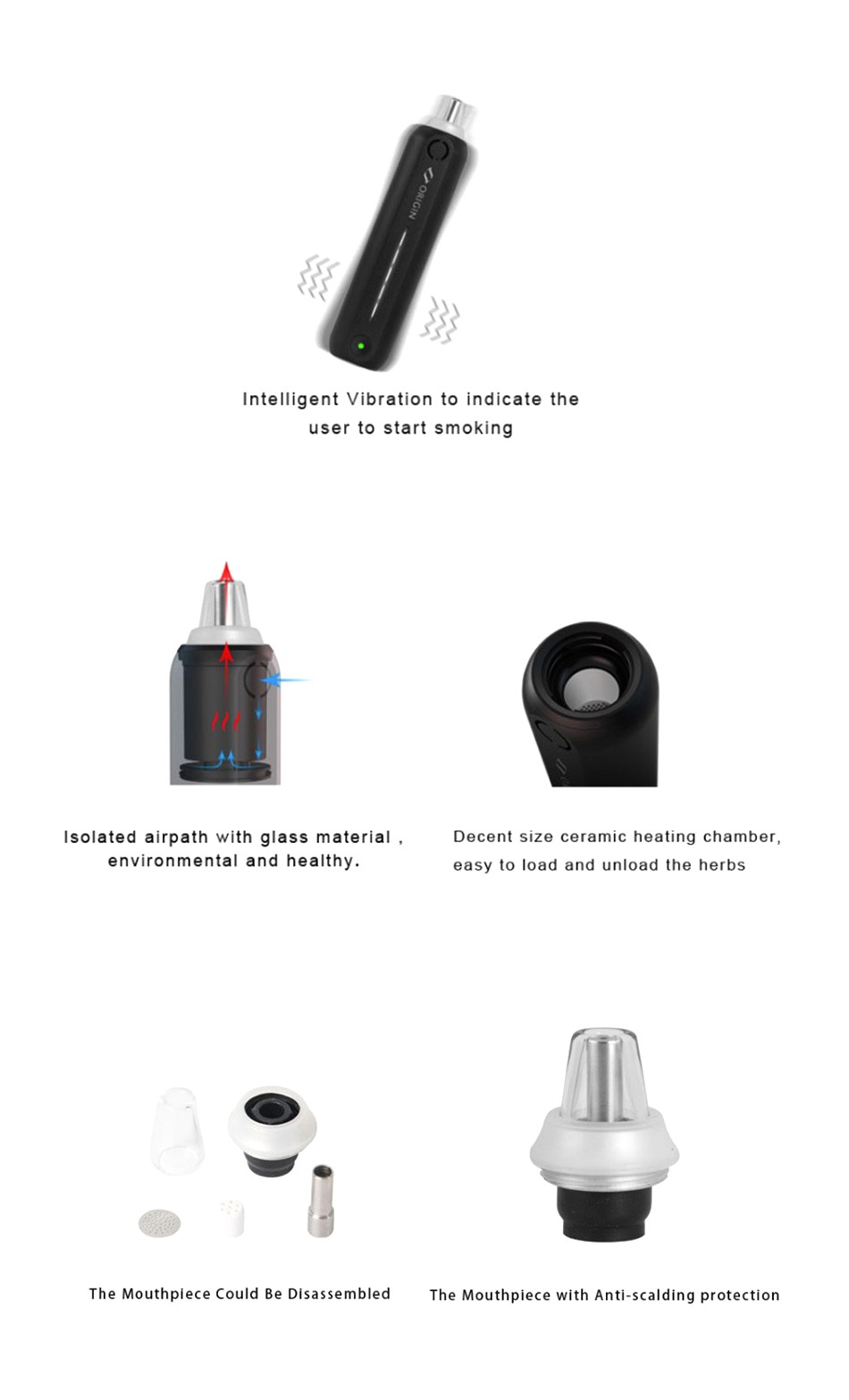 PRODUCT TEXTING
ORDERING TIPS
Attention: As the manufacturer needs the serial number to provide a replacement, we highly recommend you keep the original packing box or take picture of the code before discarding it. Thank you!