The combined shipping cost will be calculated automatically by the system after you choose the shipping destination in the checkout step.
Idea Vape Disposable Vape INTRODUCTION
Idea Vape Disposable Vape comes with a compact and lightweight design that is easy to use and offers a satisfying vaping experience. It features a 650mAh battery and a pre-filled e-liquid capacity of 15ml, providing long-lasting vaping sessions without the need for frequent refills. The 6500 Disposable Vape is designed for MTL (Mouth-to-Lung) vaping, providing a smooth and flavorful throat hit that is perfect for smokers looking to transition to vaping. It supports recharge you can finish this work in 30 minutes through fast type-c charging, and there are totally 18 flavours including fruits, dessert, and menthol.
Features
• 15ml Pre-Filled Vape E-liquid
• Rechargeable 650mAh Battery
• Type-C Cable Fast Charging
• 6500 Puffs
• Mesh coil
• 18 Flavors
• Draw-Activated Firing Mechanism
Flavor
Apple Peach
Banana Ice
Blackberry Ice
Blue Sour Razz
Fresh Mint
Grape Ice
Gummy Bear
Mix Berry
Pink Lemonade
Passion Kiwi Guava
Orange Soda
Pineapple Coconut
Strawberry Yogurt
Watermelon Ice
Ludou Ice
Taro Icecream
Green Tea
Evian Ice Water

Suggestion
Idea Vape Disposable Vape PACKAGE LIST
1 * Idea Vape Disposable Vape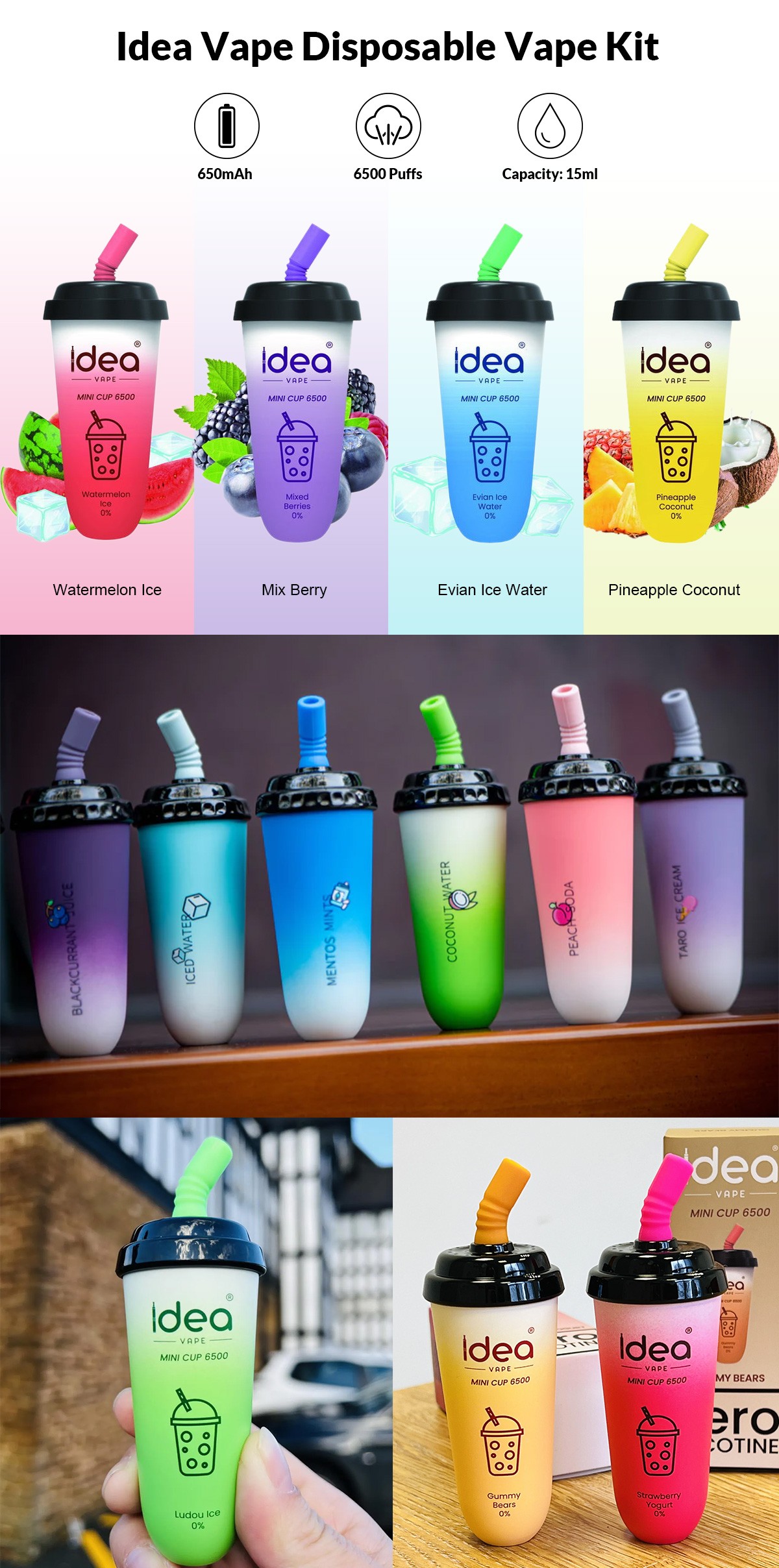 ORDERING TIPS
Attention: As the manufacturer needs the serial number to provide a replacement, we highly recommend you keep the original packing box or take picture of the code before discarding it. Thank you!