The system automatically calculates the combined shipping cost after you choose the shipping destination in the checkout step.
IVG 2400 Disposable Vape INTRODUCTION
IVG 2400 Disposable Vape - the vape that's super easy and tastes amazing! Think of it as your super convenient flavour machine. It's like magic! Inside, there's a special mesh coil that makes your vapour really smooth and burst with flavour every time you take a puff.
It's got a strong battery tucked away inside, just like a superhero's energy source. This 1500mAh battery keeps it running for a really long time. You can enjoy about 2400 puffs of delicious vapour before it needs a break.
But here's the best part: it's like having four different flavours all in one vape! Yes, you heard it right. You can choose from a bunch of yummy options – whatever you like best. And when you take a drag, it feels so smooth and comfy, like a gentle breeze.
So, whether you're new to vaping or you really love flavours, the IVG 2400 Disposable Vape is here to make your taste buds happy and your vaping experience super cool. It's an easy, tasty, and exciting way to vape!
Features
• Mesh Coil Construction
• 1500mAh Capacity Battery
• The Choice Of 4-in-1 Flavour Devices
• 2400 Puffs Of Vaping
• Innovative Equipment
• Draw-Activated
IVG 2400 Disposable Vape PACKAGE LIST
1 * IVG 2400 Disposable Vape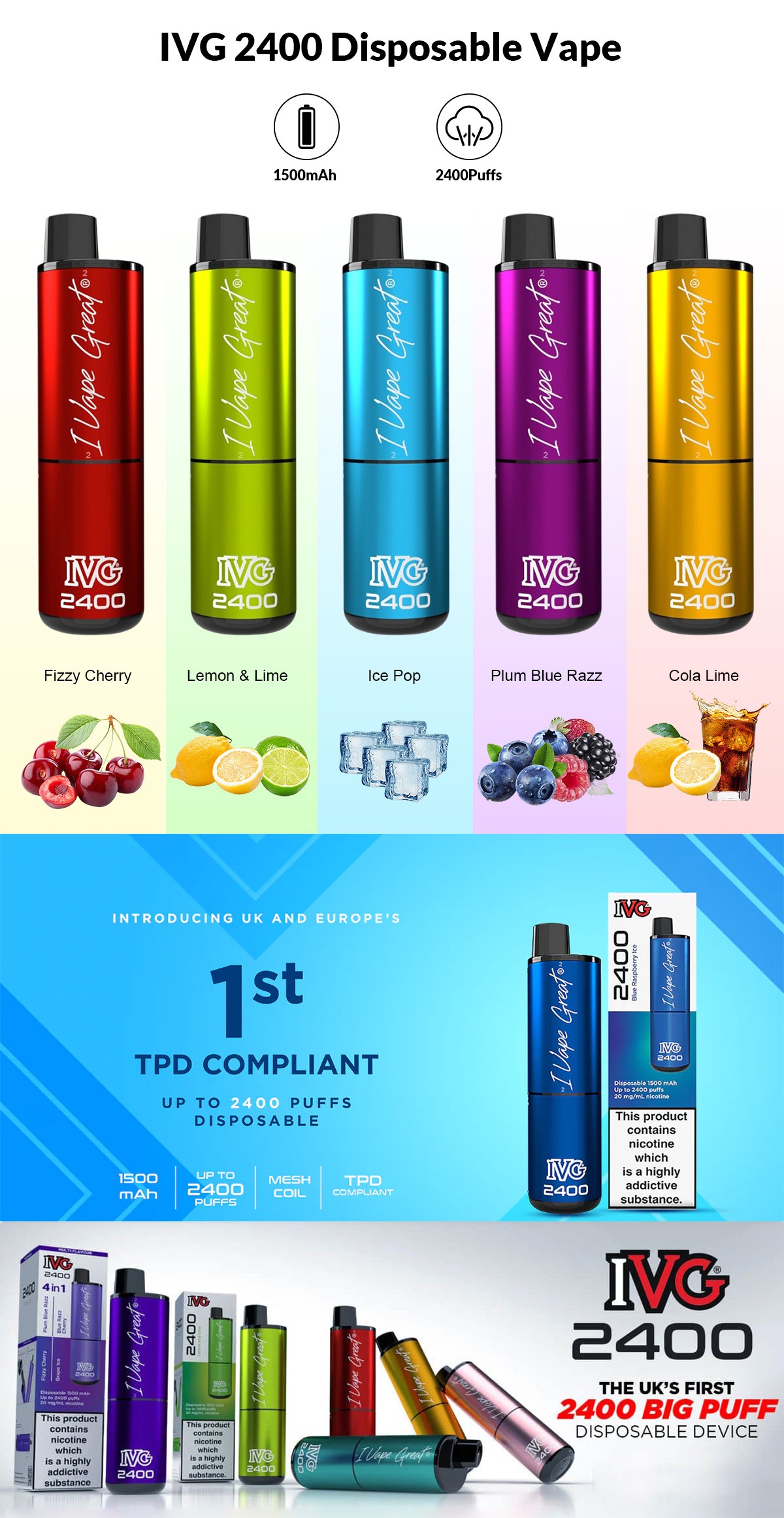 ORDERING TIPS
Attention: As the manufacturer needs the serial number to provide a replacement, we highly recommend you keep the original packing box or take picture of the code before discarding it. Thank you!