The combined shipping cost will be calculated automatically by the system after you choose the shipping destination in the checkout step.
INTRODUCTION
Lost Vape Ursa Quest Multi Kit is made of high-strength zinc alloy and the chassis is made of leather and solid wood, making it a work of art. Ursa Quest requires a 21700 or 20700 or 18650 battery to be fitted and has a maximum output of 100W. Ursa Quest can adjust wattage, voltage, TC, and bypass as well as switch between other modes thanks to its built-in high-performance Quest chipset.
Ursa Pro Pod is used for DL vaping and can be loaded with 7ml of E-liquid from the side with an 810 drip tip, Ultra Boost(UB) Pro coil and Ultra Boost(UB) Pro RBA can be fitted to the Ursa Pro Pod. Ursa Quest Multi Kit additionally comes with an Ursa Pod which can be loaded with 6ml of E-liquid from the side and can be used with the Ultra Boost(UB) M mesh coil. Ursa Pod is suitable for indirect lung aspiration suction. The coils can be changed simply by a push-pull system. The base has an airflow control that allows the desired airflow to be adjusted in order to provide the best possible taste.
Features
• New Generation of Quest Chip
• New UB PRO Coil & UB Coil
• Two Pod Tank Options
• Compatible With 21700/20700/18650 Battery
• 100W Output With 21700
• Faster Type-C Charging
• Five Vape Modes
• Redefined 510 Adapter
• Larger UB PRO RBA Coil
• Visible Capacity
• Side Refilling
• Innovative Clip-on Lock
• Genuine Leather and Wood Series
SPECIFICATION
Body Material:
Zinc-Alloy+Leather
Battery:
Single 21700/20700/18650 (Not Included)
Modes:
Wattage/Voltage/TC/VPC/Bypass mode
Battery Voltage:
3.0V-4.2V
Temperature Range:
100°C-315°C/ 200°F-600°F
Coil Resistance supported:
Kanthal, Nickel, Titanium, SS316, SS904
Screen:
0.96-inch TFT, 9''80*160
Pod Type:
Ursa Pro Pod(7ml) / Ursa Pod(6ml)
Drip Tip:
810 Drip Tip(Ursa Pro Pod) or 510 Drip Tip(Ursa Pod)
Colors: Ukiran Leather Series: SS-Ukiran Leather, Gunmetal-Ukiran Leather, Black-Ukiran Leather
Crocodile Leather Series: SS-Crocodile Leather, Gunmetal-Crocodile Leather, Black-Crocodile Leather
Wood Series: SS-Purple-Heart Wood, Gunmetal-Ebony Wood, Black-Red Sandalwood
Special Edition Embossed Leather Series: SS-Embossed Leather, Gunmetal-Embossed Leather, Black-Embossed Leather
PACKAGE LIST
1 x Ursa Quest Device
1 x Ursa Pro Pod Tank (Pre-installed) (7ml, 810 drip tip)
1 x Ursa Pod Tank (6ml, 510 drip tip)
1 x 0.15ohm UB Pro P1 Coil
1 x 0.2ohm UB M4 Coil
1 x 510 Adaptor
1 x Airflow Control Base (Pre-installed)
1 x 18650 Battery Adaptor
8 x O-Rings
1 x Type-C Cable
1 x Warranty Card
1 x Leather Warning Card (Leather Series Only)
1 x User Manual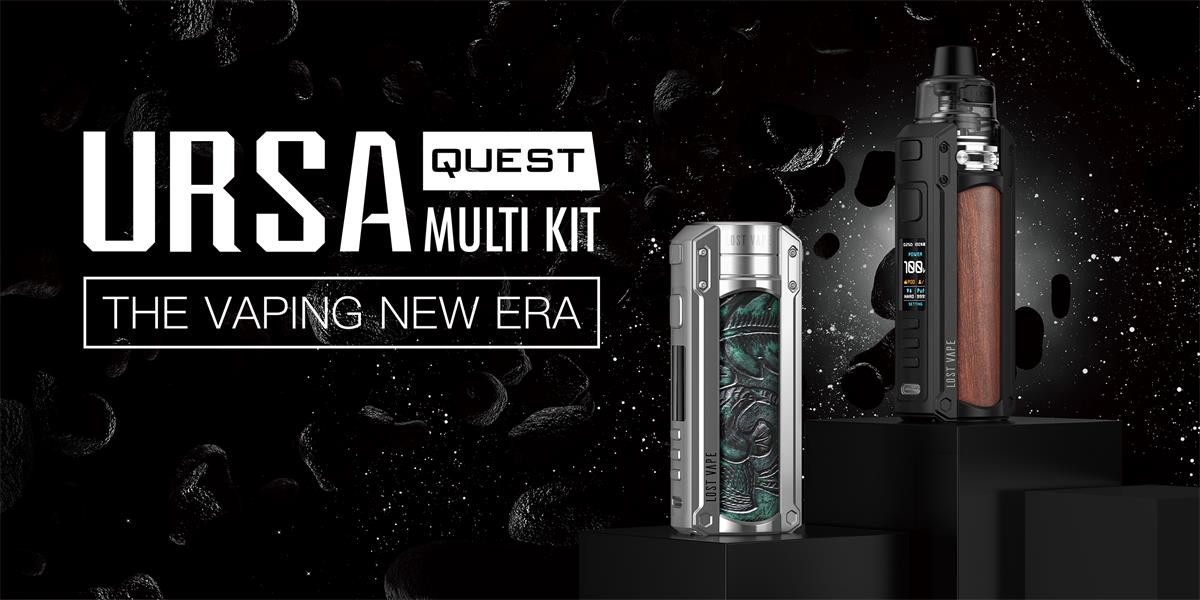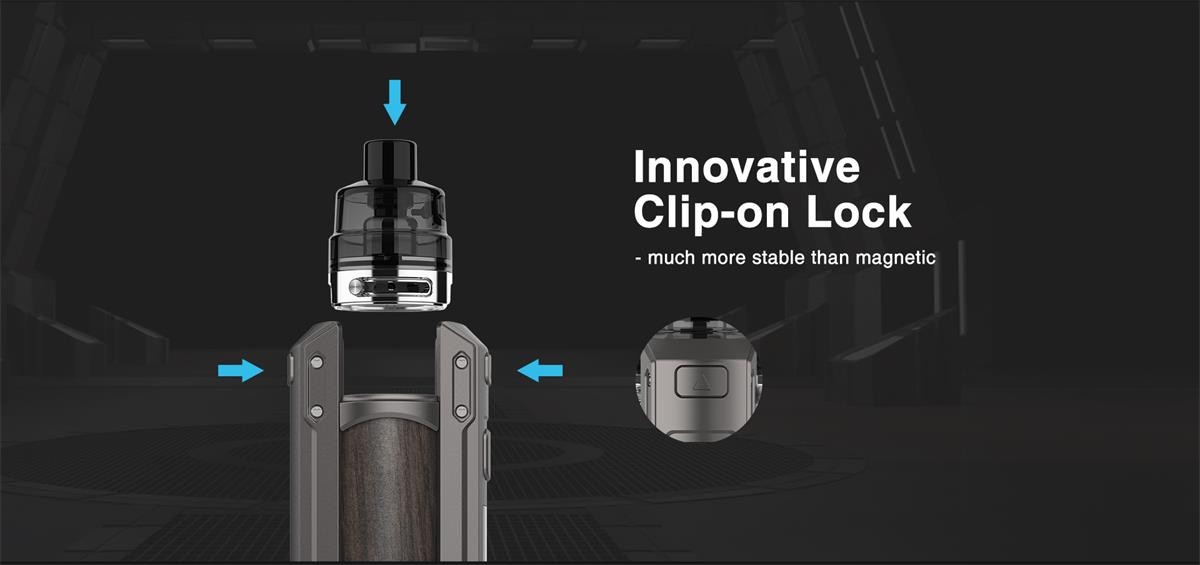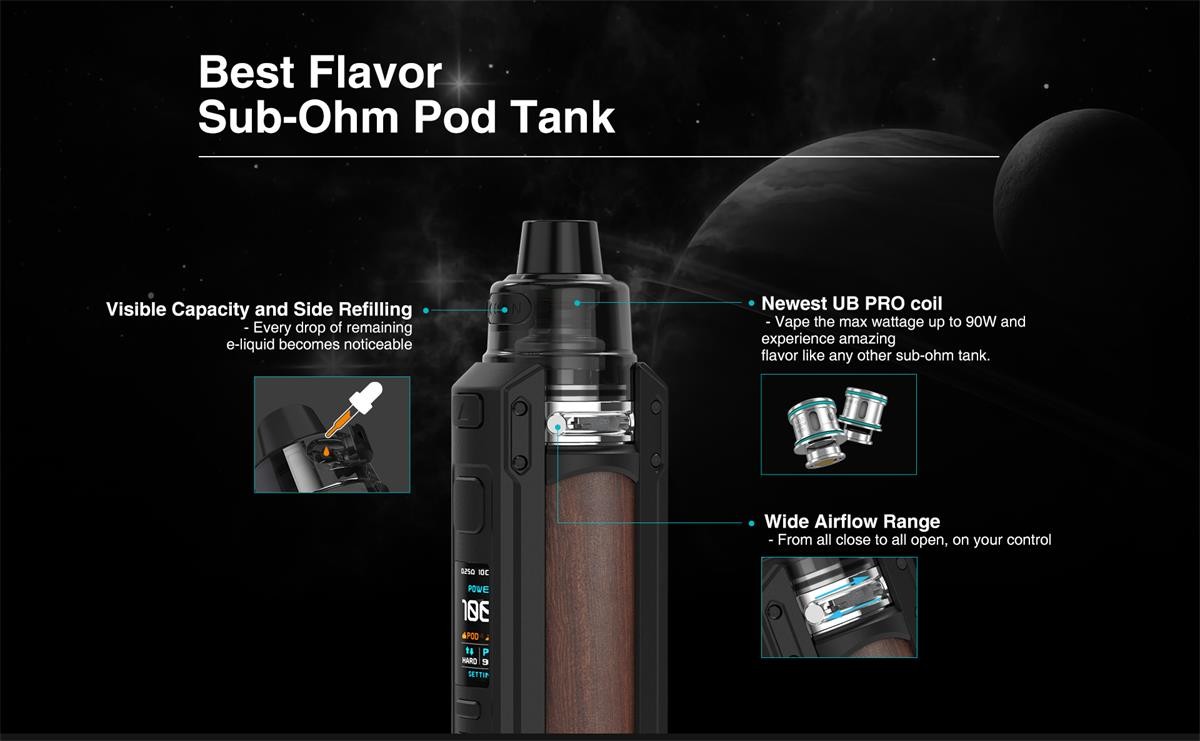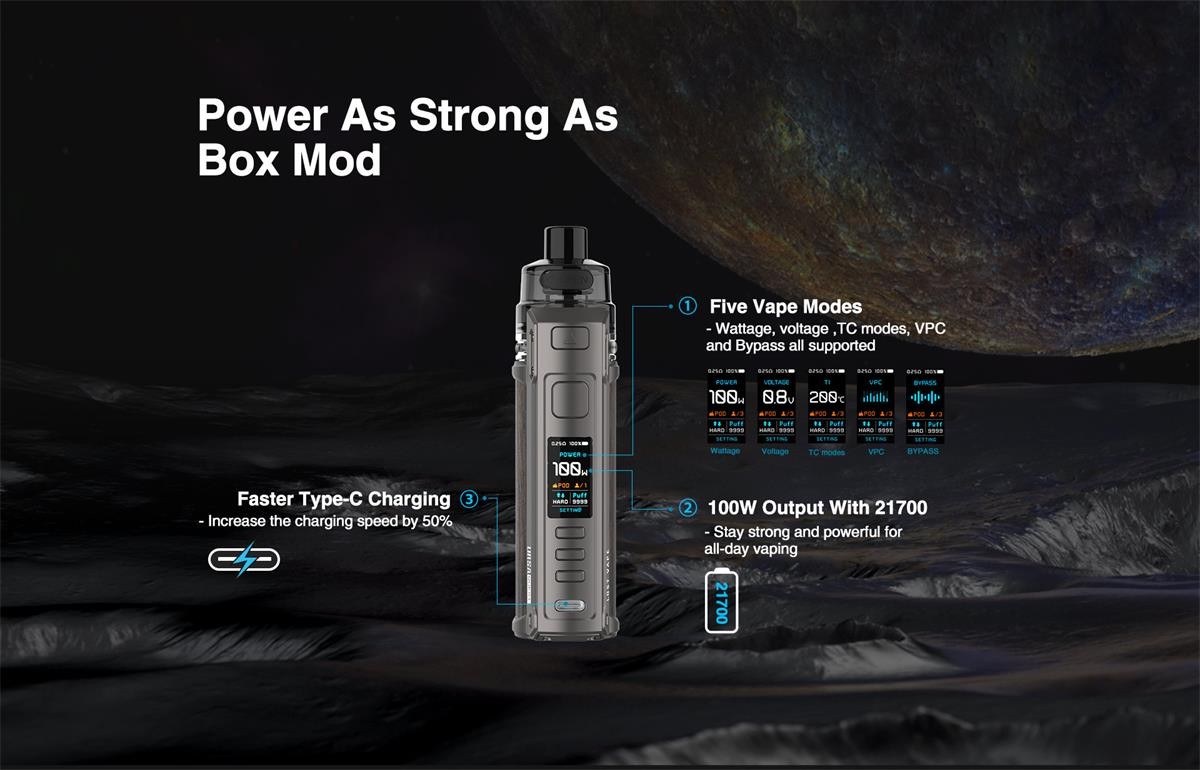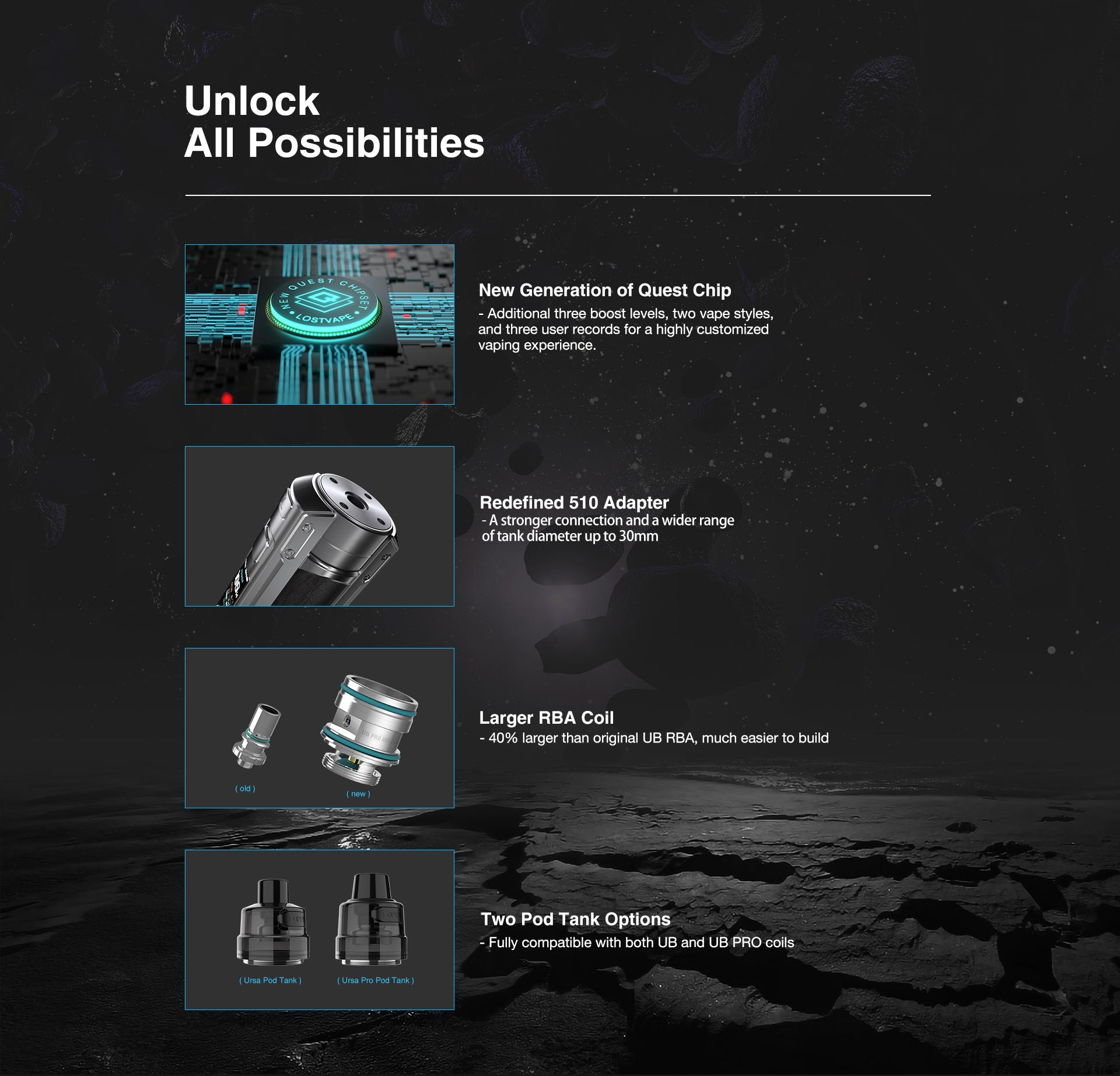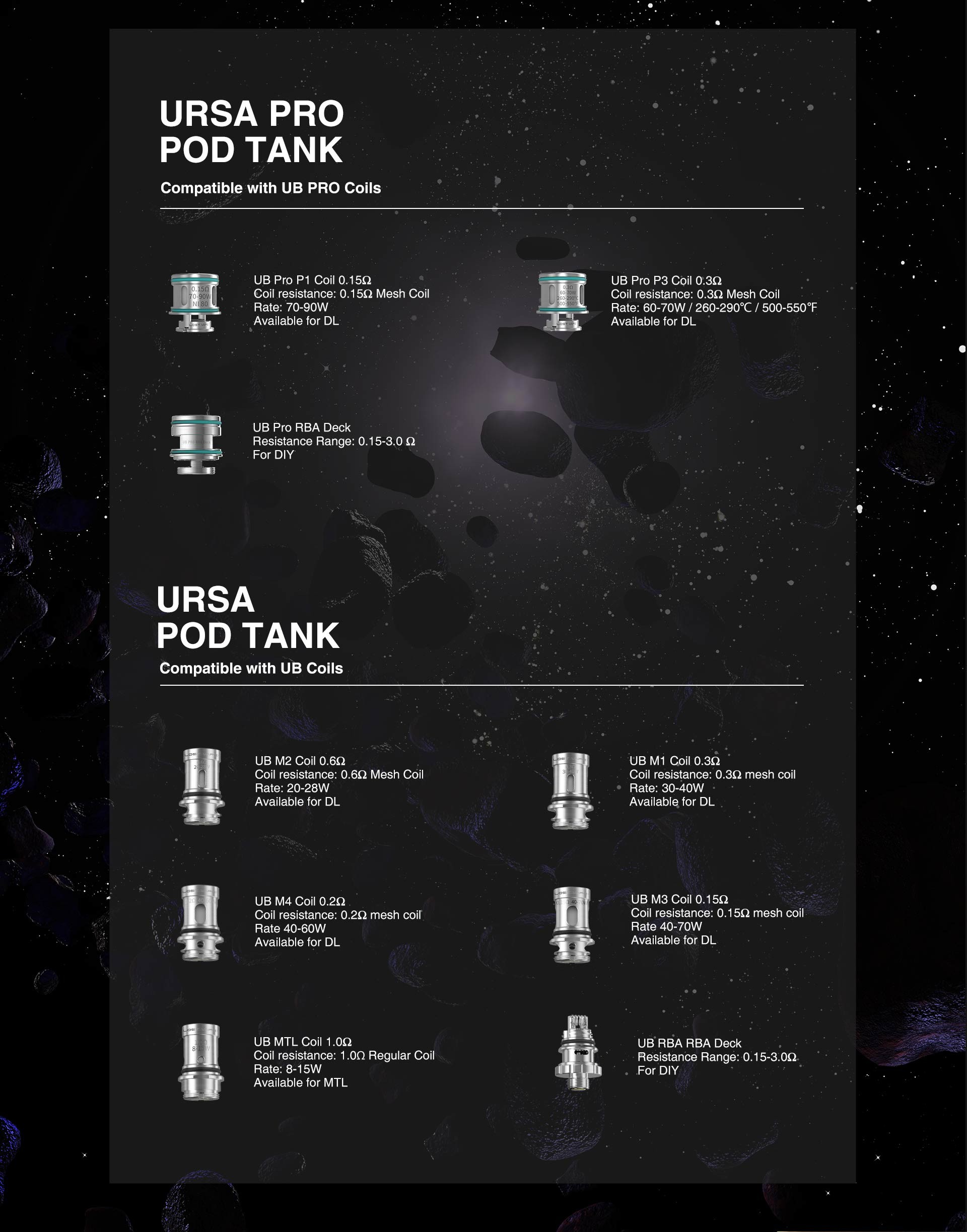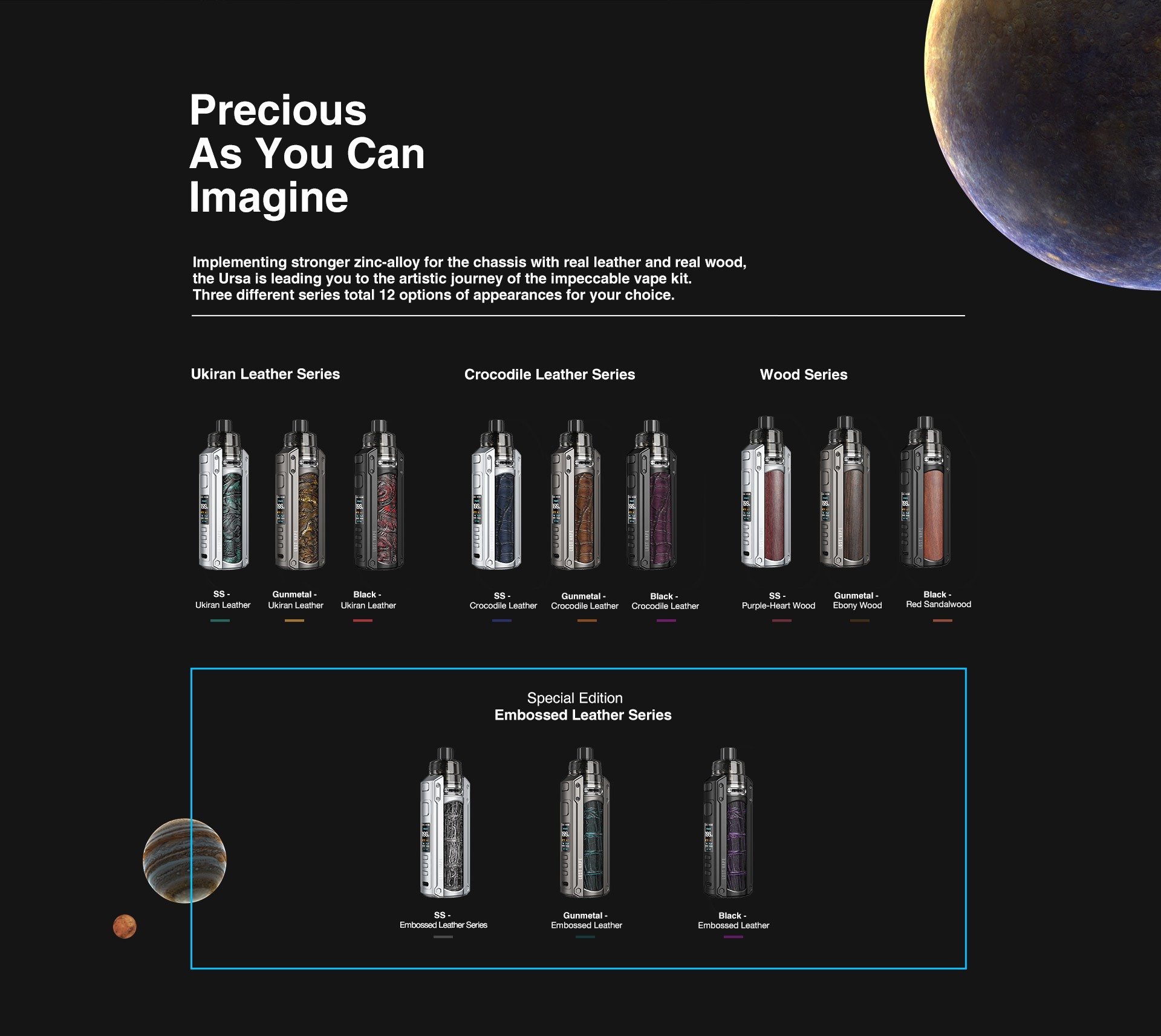 ORDERING TIPS
Attention: As the manufacturer needs the serial number to provide a replacement, we highly recommend you keep the original packing box or take picture of the code before discarding it. Thank you!