Brand: OXVA
Unit: set
Type: Pod Mod Kit

Net Weight: 205(g)
The combined shipping cost will be calculated automatically by the system after you choose the shipping destination in the checkout step.
INTRODUCTION
OXVA Velocity, the smallest 21700 Box Mod kit in the market, its size is similar to a single 18650 pod mod but can offer power as a dual battery mod. It is an excellent pod mod featuring with smaller size, larger power, and better flavor experience. The OXVA Velocity kit is powered by a single 21700 battery, also supports a 20700 or 18650 battery, but suggest the 21700 battery as the 18650 battery can't not powerful enough to vape from 60W to 100W.
Oxva velocity inquired with luxury leather and IML material outlook design. It is very smart and works perfectly. The Velocity fires up 100 watts and goes up to 4000mah. Featuring the 100% leakproof RTA and small size, you can take it anywhere and put it into the pocket. Comes with a creative 510 connection. It is detachable but works perfectly, it doesn't come off when you unscrew the tank or remove the cap. OXVA Velocity Kit comes with two cartridges in the package included Unipro and Unicoil pods. They are trying to offer better flavor with no leaking. The capacity of both cartridges is 5ml. Inquiring with a 5ml top refilling cartridge, it is very easy to use and operate.
Features
• SIZE is similar to a single 18650 pod mod
• Power can go up as dual battery mod
• Smaller 100W 21700 box mod
• Luxury leather and IML material outlook design
• Creative 510 connection
• Type-C Fast Charging
• Changeable 810 drip tip
• Triple Battery 18650 / 20700 / 21700
• Best flavor & 100% Leakproof RTA
• Unipro coils with RBA compatible with MTL & RDL
• 3 modes-smart, power, voltage; 6 color themes
• Ergonomic battery adaptor design
SPECIFICATION
Battery:
Single 21700/20700/18650 battery (Not Included)
Chipset:
OXVA Photon Chip
Resistance range:
0.10-2.0Ω
Cartridge:
Unipro Cartridge, Unicoil Cartridge
Compatible coils: Unipro: 0.15ohm/0.3ohm/RBA
Unicoil: 0.2/0.3/0.5/1.0ohm/RBA
Protections:
Switch Timeout/Short-circuit/Overcharge/Over-discharge/Output Over-current protection
Colors:
Black Leather, Brown Leather, Carbon Fiber, Rose Gold, Gold Ripple, Black Marble
PACKAGE LIST
Standard Edition
1 x Velocity Device
1 x Unipro 0.15ohm(Airflow ring included)
1 x Unipro 0.3ohm
1 x Unipro Cartridge(5ML)
1 x Unicoil Cartridge(5ML)
1 x Disassembly tool
1 x USB Type-C cable
1 x Warranty card
1 x Attention card
1 x User manual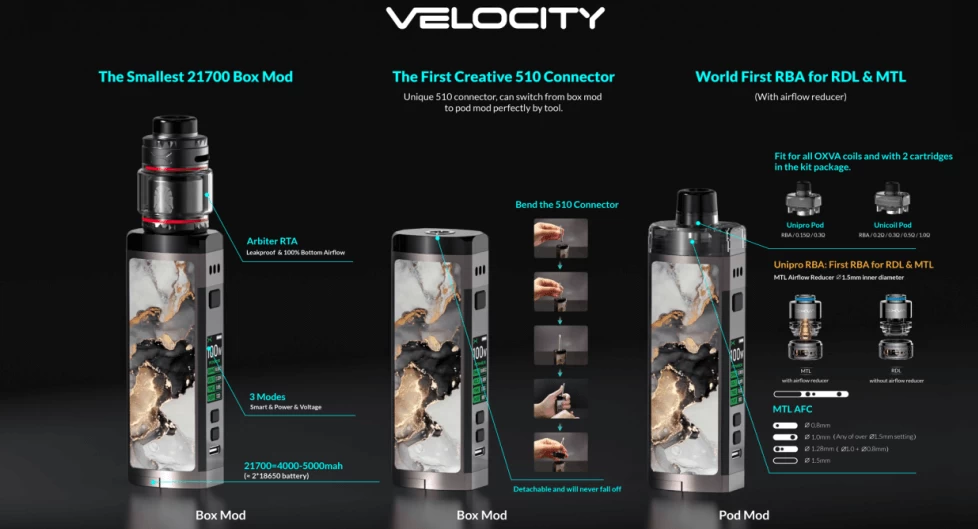 ORDERING TIPS
Attention: As the manufacturer needs the serial number to provide a replacement, we highly recommend you keep the original packing box or take picture of the code before discarding it. Thank you!