The combined shipping cost will be calculated automatically by the system after you choose the shipping destination in the checkout step.
Snowplus Go 10000 Disposable Vape INTRODUCTION
Snowplus Go 10000 Disposable Vape comes with a massive 20ml pre-filled e-liquid pod and is available in a range of delicious flavors. The device also features a powerful rechargeable 650mAh battery, which can provide approximately 10000 puffs, making it ideal for extended vaping sessions. It supports Type-C charging, which makes it easy to charge the device when needed. Its sleek and lightweight design makes it easy to carry in a pocket or bag, and it's the perfect option for vapers who want a powerful, long-lasting, and conveniently disposable.
Features
• 20ml Pre-Filled Vape E-liquid
• Rechargeable 650mAh Battery
• Type-C Cable
• Approximately 10000 Puffs
• Mesh coil
• Draw-Activated
• Dimensions: 90mm x 51mm x 27mm
• Nicotine Type: Nic Salt
Flavor
Tropical Breeze
Peach Ice
Lush Ice
Melon Berry Twist
Salted Lemonade
Sour Apple Ice
Suggestion
Snowplus Go 10000 Disposable Vape PACKAGE LIST
1 * Snowplus Go 10000 Disposable Vape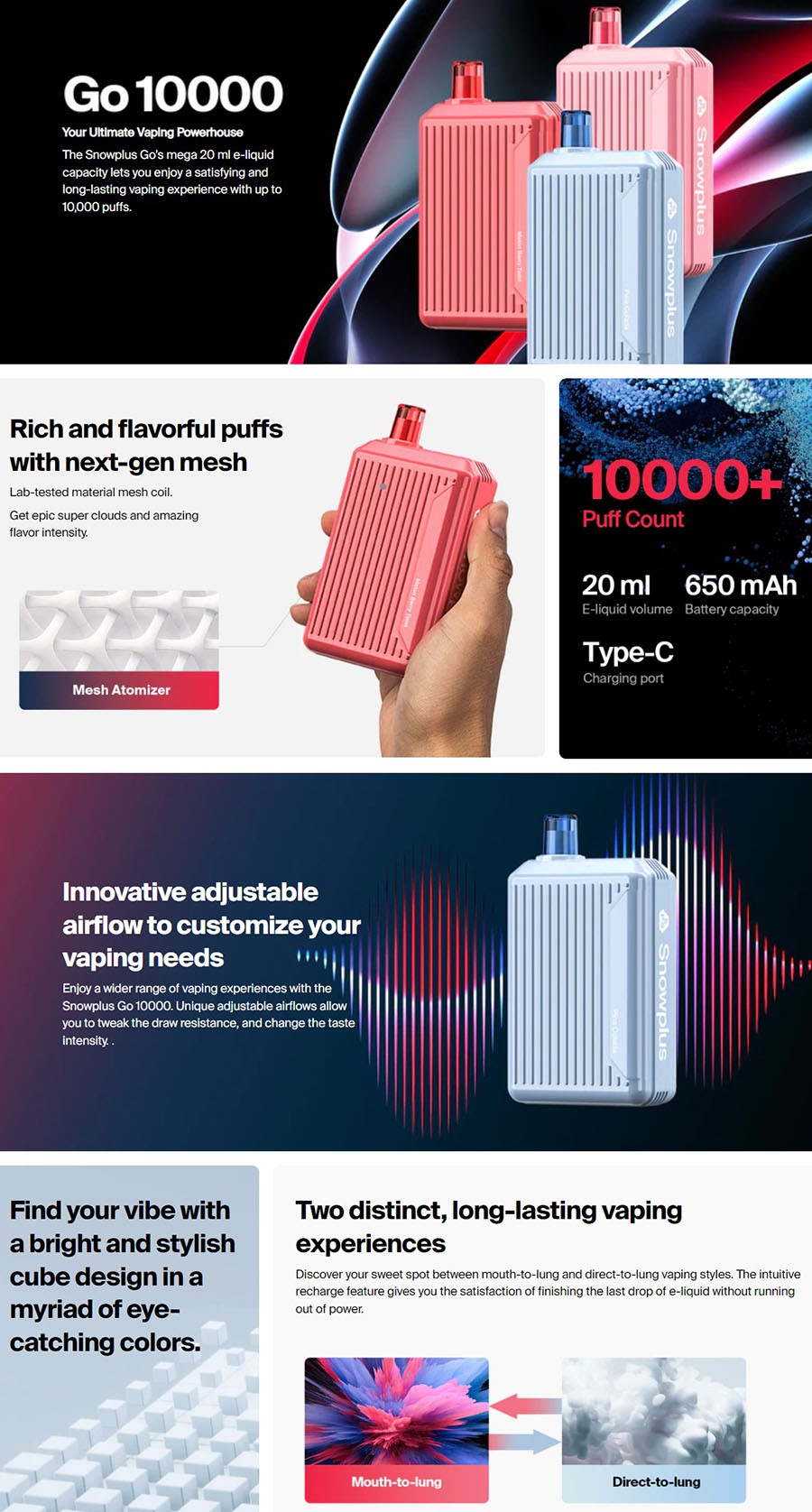 ORDERING TIPS
Attention: As the manufacturer needs the serial number to provide a replacement, we highly recommend you keep the original packing box or take picture of the code before discarding it. Thank you!