The combined shipping cost will be calculated automatically by the system after you choose the shipping destination in the checkout step.
Tito Pro Max GD Disposable Vape INTRODUCTION
Tito Pro Max GD Disposable Vape is a high-performance vaping device that offers a compact and portable design. With a pre-filled 20ml vape e-liquid and a rechargeable 650mAh battery, this device delivers up to 10000 puffs, providing a long-lasting vaping experience. The Tito Pro Max GD Disposable features a mesh coil and 10 available flavours, providing users with a smooth and satisfying vaping experience and a variety of flavour options. When charged via a fast type-C cable, this device can be easily and quickly charged, ensuring it is always ready to use.
Features
• 20ml Pre-Filled Vape E-liquid
• Rechargeable 650mAh Battery
• Type-C Cable Fast Charging
• Mesh coil
• 10 Flavors
• Compact And Portable Design
Draw-Activated Firing Mechanism
Flavor:
Aloe Grape
Strawberry Watermelon Bubblegum
Red Apple Ice
Mr Blue
Gummy Bear
Fizzy Vimto
Fizzy Cherry
Cola Ice
Blueberry Raspberry
Blue Razz Lemonade

Tito Pro Max GD Disposable Vape PACKAGE LIST
1 * Tito Pro Max GD Disposable Vape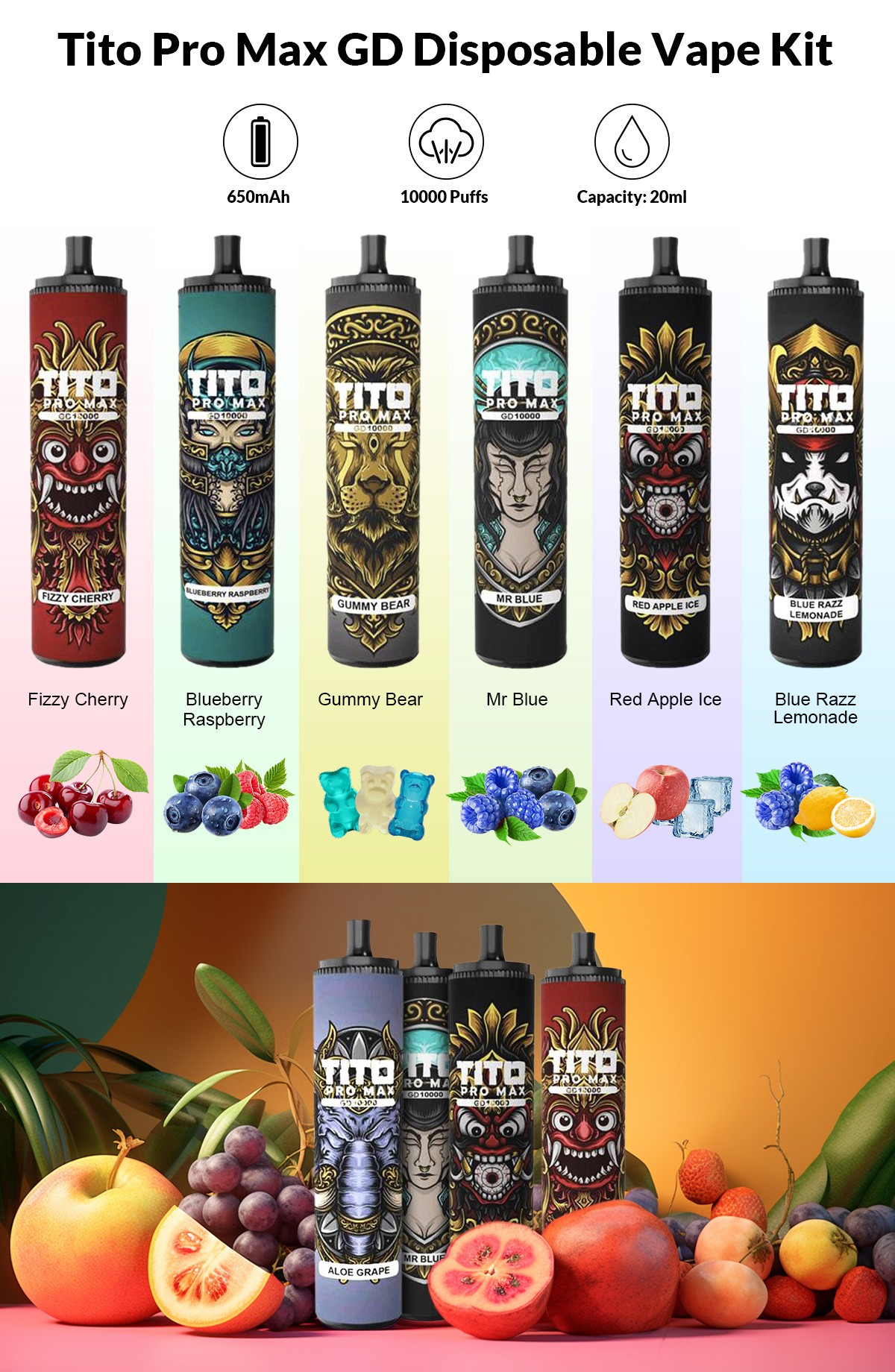 ORDERING TIPS
Attention: As the manufacturer needs the serial number to provide a replacement, we highly recommend you keep the original packing box or take picture of the code before discarding it. Thank you!