The combined shipping cost will be calculated automatically by the system after you choose the shipping destination in the checkout step.
Yocan Zen Dab Pen Vaporizer INTRODUCTION
Yocan Zen Dab Pen Vaporizer is made of strong stainless steel, so it's tough and looks good. It uses special coils called C4-DE (Ceramic and Diatomaceous Earth), which are designed to give you great flavour and lots of vapour. You can make it work just the way you like with different voltage settings (low, medium, and high). Plus, it's safe to use because it turns off after 30 seconds. When you need to charge it up, just use the Type-C charger, and it'll be ready to go in about 1.5 hours. The Yocan Zen Dab Pen Vaporizer makes vaping concentrates easy and enjoyable.
Features
• Size: 14.2*121mm
• Material: Stainless Steel
• Internal Rechargeable 650mAh Battery
• Coil: C4-DE(Ceramic and Diatomaceous Earth Coil)
• Resistance: 1.6ohm
• Adjustable Voltage: 2.8V/3.2V/3.6V
• Safety Cutoff: 30s
• Charging Port: Type-C
• Charging: 5V/0.5A
• Charging Time: 1.5h
Yocan Zen Dab Pen Vaporizer PACKAGE LIST
1 x Yocan Zen Dab Pen Vaporizer
1 x Type-C USB Cable
1 x Extra C4-DE Coil
1 x User Manual
1 x Pick Tool
4 x Cotton Swabs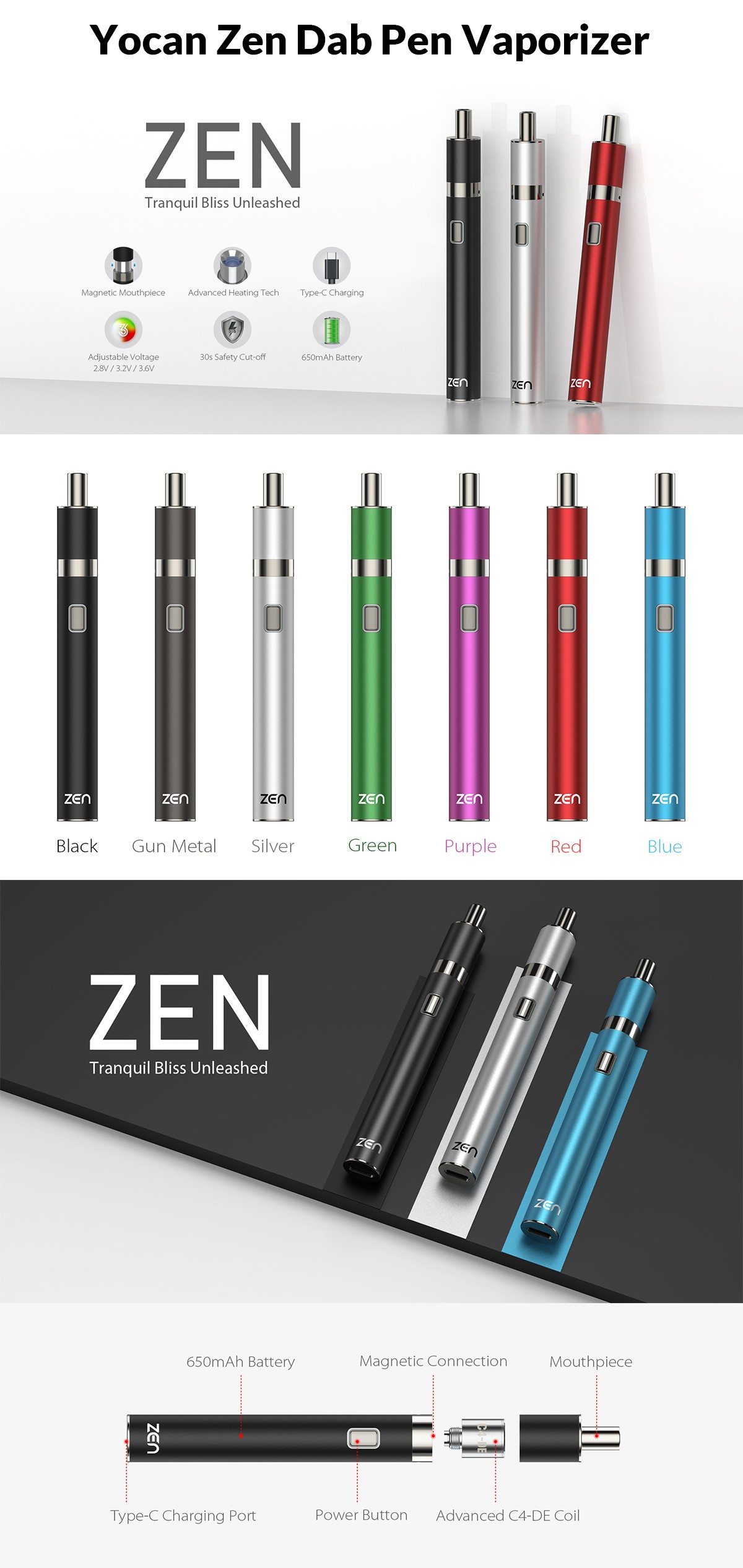 ORDERING TIPS
Attention: As the manufacturer needs the serial number to provide a replacement, we highly recommend you keep the original packing box or take a picture of the code before discarding it. Thank you!