Hello everyone, what I want to introduce to you today is a brand new electronic cigarette made by geekvape, geekvape aegis boost pro 2. Before that, I think some users have known about the product geekvape aegis boost pro max, you can Consider this product to be introduced today as an upgraded version. Then let us take a look at which aspects it is particularly outstanding.
The first thing to debut is still the three-proof technology we are familiar with. I think geekvape always adheres to this principle in order to let users have a better experience. The three-proof technology launched today is an enhanced professional version, which means that it is more shock-resistant. performance, and maintain a stable sense of use in harsher environments.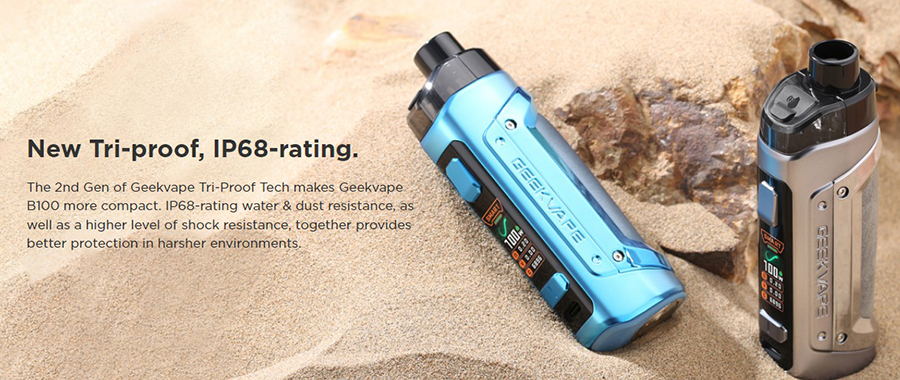 A single external 18650 battery is used for battery life, and the maximum output can reach 100W. The performance in this aspect is the same as that of aegis boost pro max. As for the biggest difference from the old model, the most prominent one is the intelligent mode adopted this time, the AS-Chip 3.0 chip, which plays a vital role in providing a powerful output for the device. Among them, the Smart Mode can bring the best output according to the resistance value and the heat provided, and give you the most satisfactory smoking method. The second is that Boost Mode can provide the best flavour to the greatest extent, even when the battery is very low.
Of course, in order to provide better visual enjoyment, a very advanced curved screen is also used this time, so that data can be presented more clearly. The overall body shape design is very reasonable, and it is very comfortable to hold in the hand. The Aegis Boost Pro 2 also adds an A-lock for you, a setting that geekvape insists on, for a more secure opening and closing.
Compatible with a 4.5ml aegis boost pro 2 pod, the top filling system also allows the e-liquid to stay inside the pod more safely, and the top airflow system can also deliver higher-quality flavour and steam. The coils it carries are still the familiar geekvape p coils, and the upgraded coils are twice as long as ordinary coils, so you can enjoy doubling the happy time of vaping.
Speaking of this, I think you have a full understanding of this product. In the best vape shop, I think you can find any product you want so that you have full freedom of choice.
You may also be interested in: