Brand: Exseed
Unit: set
Type: Vaporizer

Net Weight: 349(g)
The combined shipping cost will be calculated automatically by the system after you choose the shipping destination in the checkout step.
INTRODUCTION
Exseed Dabcool W2 Kit is made of metal and rubber and has a bottom handle for a sharp and comfortable grip. The built-in 1500mAh lithium battery provides powerful heating performance. Heating time is as fast as 20 seconds thanks to the intelligent temperature control system with four temperature levels to choose from, 450°F, 500°F, 600°F and 680°F. On the front of the unit is a button that can be pressed 5 times to turn on the unit, twice to heat it up, and once more to switch between temperature levels. The top is made of splash-proof borosilicate glass and is designed to prevent water from being drawn out. The increased inhalation resistance allows the atomizer to be fully heated. Exseed Dabcool W2 can support cut smoke, E-liquid, and tobacco paste.
Features
• Metal and Rubber Body
• Intelligent Temperature Control System
• Temperature Controllable 4 Gear
• Press to adjust the temperature
• 1500mAh Large Battery Capacity
• Supports cut tobacco, e-liquid, and tobacco paste
SPECIFICATION
Battery Capacity:
1500mAh
Output Temperature:
450℉/500℉/600℉/680℉
Colors:
Gunmetal, Red, Blue
PACKAGE LIST
1* Alcohol Pad
1* Micro-USB Super Charger
1* Dab Tool
1* Glass Attachment
1* Atomizer
1* Base
1* Silicone Container
1* Carb Cap
2* Extra Bowl
HOW TO USE
STEP 1: Fully charge device before first use. White lights pulse while charging, and turn off automatically when complete.(1 light: 0-25%; 2 lights: 25-50%; 3 lights: 50-75% ; 4 lights: 75-100%)
STEP 2: Fill glass with water just above the air-hole. Do not fill glass while attached to the base.
X- Do not allow water in the lower section!
STEP 3: Align the inlet hole on the front of the glass with an atomizer. Carefully place the glass into the base.
STEP 4: Hold the button for 3 seconds to turn on the device (same way to turn off the device). The white lights will flash once and the ambient lights will flash sequentially red>blue>green.
STEP 5: Single click to toggle through heat settings.
1 white light: 450℉ 2 white lights: 500℉
3 white lights: 550℉ 4 white lights: 600℉
Device will vibrate once while changing heat.
STEP 6: Use Loading Tool to place contents on the bottom surface of the bowl [not the side].
STEP 7: Place carb cap on top of the atomizer.
STEP 8: Double click to initiate heat-up [5 seconds avg. ], the device will vibrate twice and ambient lights will be red. Single-click the button to turn off the heat-up process at any time.
STEP 9: Ambient lights will turn green when ready. ( green lights will be on for 20 seconds, then heat up process automatically stop and ambient lights turn blue)
STEP 10: Use a cotton swab to clean the chamber after each use.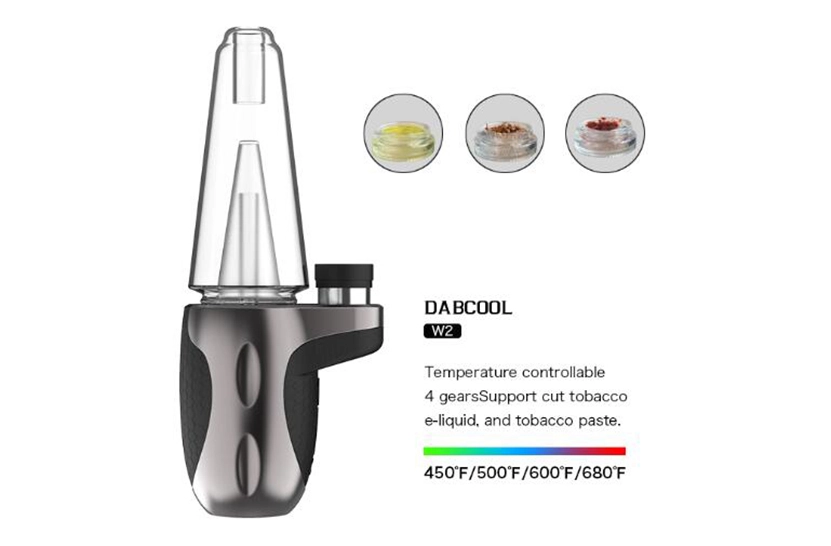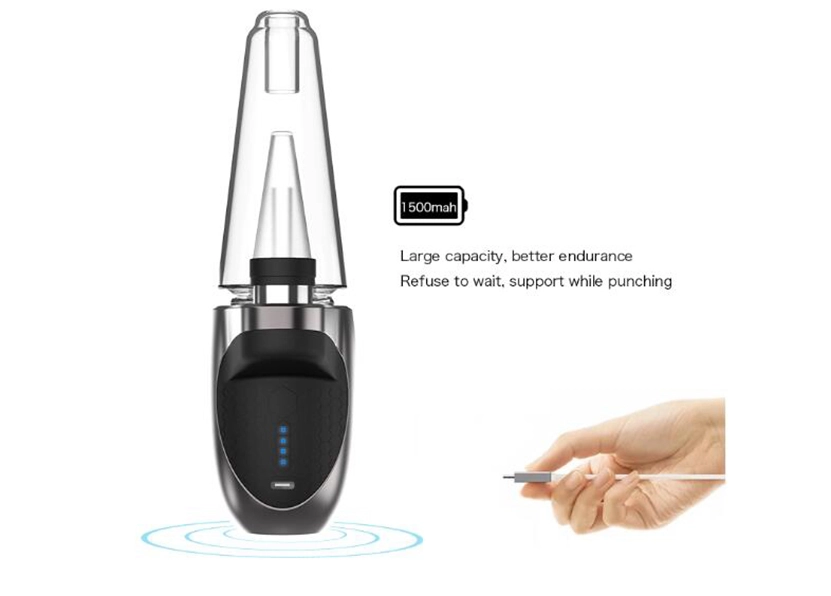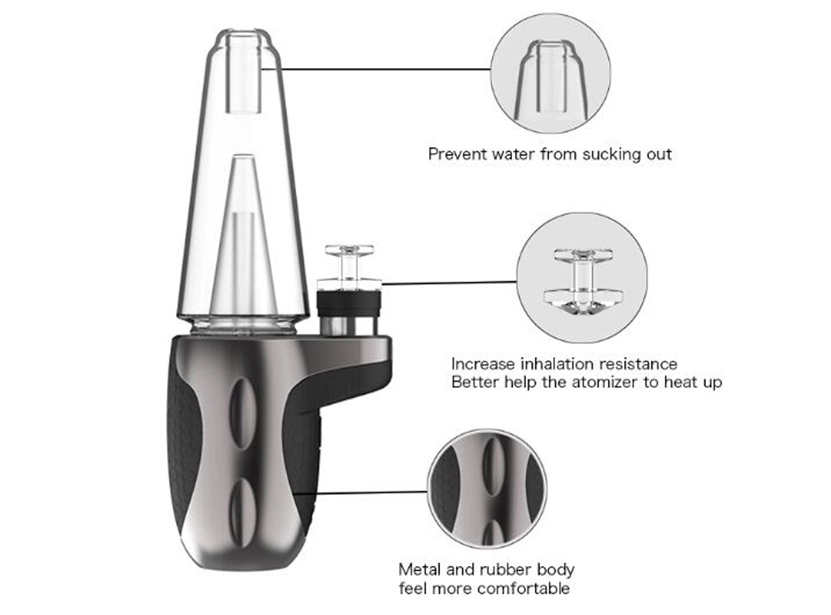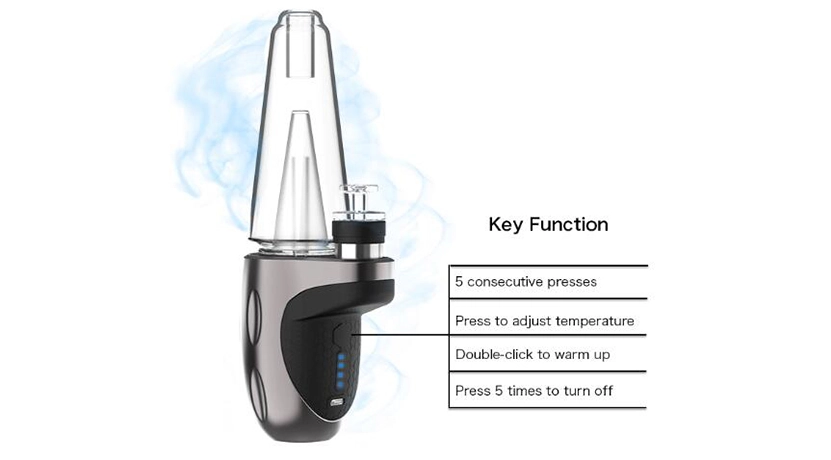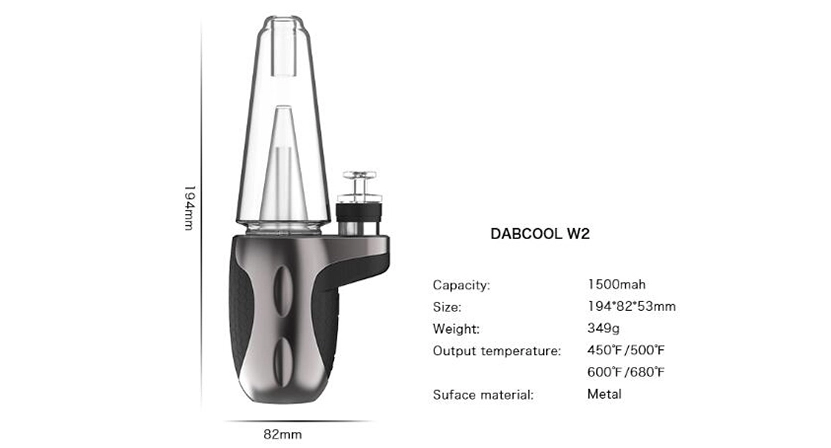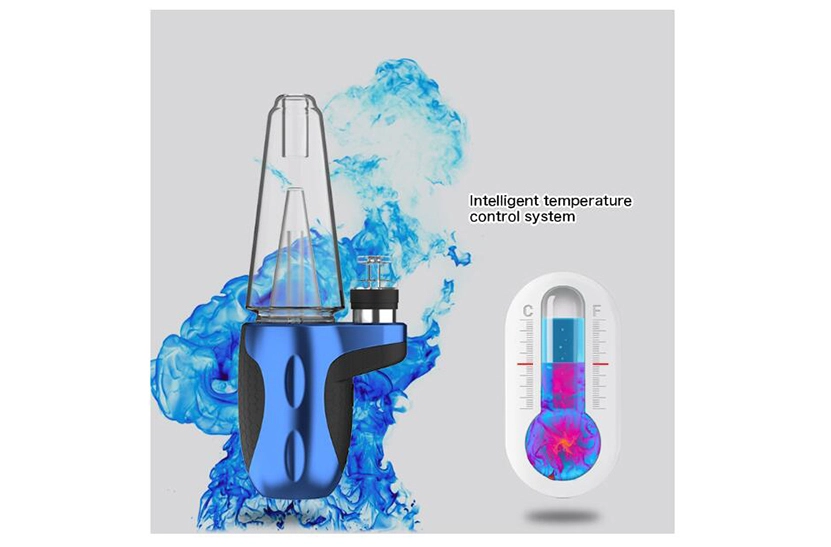 ORDERING TIPS
Attention: As the manufacturer needs the serial number to provide a replacement, we highly recommend you keep the original packing box or take picture of the code before discarding it. Thank you!