As you can see, the smok morph series has reached the third generation, smok morph 3 kit, and what breakthroughs will the third-generation products we have been waiting for have? If you are looking forward to this as I am, please don't miss the content.
Compare from performance
Morph 3 is compatible with both dual 18650 batteries and dual 21700 batteries, the battery capacity can be matched according to your needs for battery life. SMOK Morph 2 is compatible with dual 18650 batteries. The battery is not included and needs to be matched by the user. Their maximum output is 230W.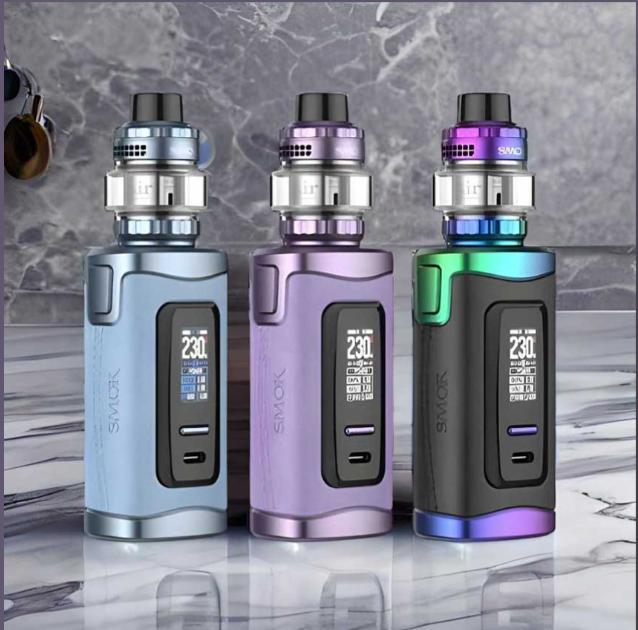 From a compatible configuration point of view
SMOK Morph 3 is perfectly compatible with SMOK T-air Subtank, with a capacity of 5ml, it can guarantee a long service life. The top airflow system can help to inhale more smoothly. Of course, the e-liquid can also be filled directly through the top without any trouble of oil leakage. The overall design is very elegant and reliable.
And SMOK Morph 2 is compatible with our familiar smok tfv 18 tank, and its capacity will be even more impressive. As a very popular atomizer, I think it has left a deep impression on many people, both in terms of capacity and taste. The top filling and bottom adjustable airflow are so perfect.
SMOK Morph 3's new smok ta coils can evenly generate steam and clouds, bringing consistent and stable output. The tfv18 coils of morph 2 are also an enduring coil worthy of recognition, and the thick and stimulating taste can be easily obtained.
Judging from the design
Both products are made of a very textured and durable zinc alloy combined with comfortable leather material. Low-key and grand is definitely the deepest impression left by morph. A fire button is installed on the side so you can quickly activate the unit. Both Morph 3 Mod and Morph 2 Mod have a 0.96" TFT screen, you can check the data on the device at any time and check the data you adjusted, which brings more convenience to the operation.
In All
Generally speaking, there are certain differences in appearance and configuration. As a vape mod kit, I believe it is a welfare product for old smokers. If you trust smok enough or want to try it Yes, you may wish to consider this electronic cigarette, it may give you a different surprise experience. We also welcome you to find the products you care about at the cheapest online vape store.
I would like to show you these: