The smok rpm 85 and smok rpm 100 are new products after both smok rpm 5 and smok rpm 5 pro. For many vapers, rpm 5 and rpm 5 pro are irreplaceable products. It is indeed because of their excellent appearance and performance that they have attracted a lot of new and old users. How will rpm 85 & rpm 100 show their advantages, and can they have a good reputation?
Differences in performance:
SMOK RPM 85 takes the form of a 3000mAh built-in battery, while the smok rpm 100 allows a single external 21700/18650 battery to power the device. The difference between the two is the built-in smart charging, and the external can be replaced, which can be selected according to personal needs. The power output of up to 85W and up to 100W also means that the heat generated is different, so the size of the smoke will be differentiated.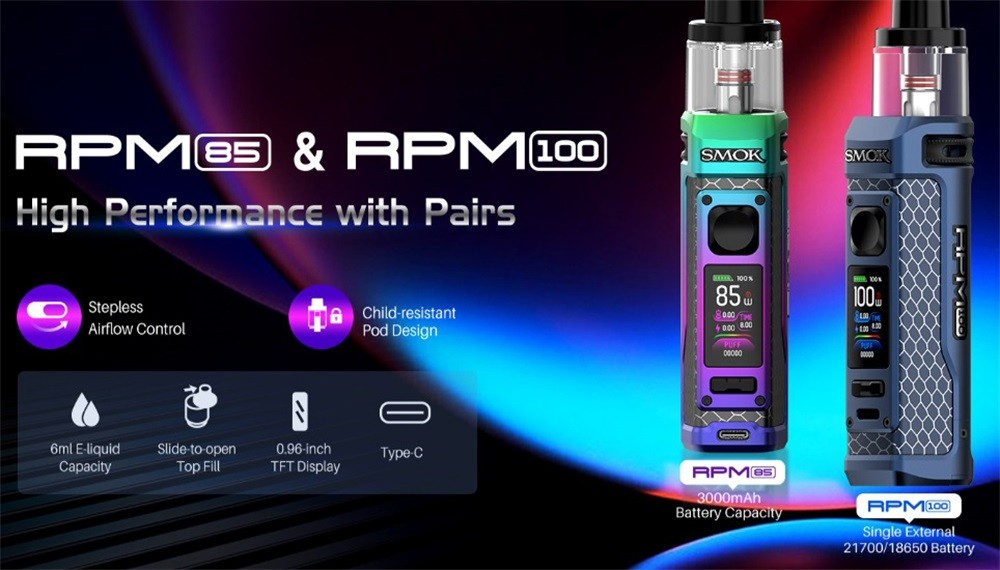 Design intentions:
In fact, it is not difficult to reminisce about the design of smok nord and smok novo from the pattern and colour selection of the shell, which have the same purpose. The shells use IML technology, and the benefits of electroplating make them stand out. The unit is also equipped with a 0.96" OLED screen, as well as a fire button and an adjustment button. The design here is basically the same as the previous rpm 5 & 5 pro.
On the top of the unit, you will also notice that there is a rotary air-inlet, used to adjust the airflow, which is very intimate and special. In terms of specifications, the smok rpm 85 is also slightly smaller than the smok rpm 100, so the weight will also be different.
Equipped with device:
The Smok rpm 85/100 pod features a top filling system, you just need to slide the top cover, and you can easily fill the e-juice, which can prevent the e-liquid from leaking and not being crowded everywhere. In addition to the original rpm 3 coil that is compatible with e-cigarettes, the rpm 2 coil is also compatible. Stimulating throat hits and thick clouds can be achieved, fully satisfying your desire to vape.
I'd like to recommend: