The Vape Pen V2 uk was designed by Smok, and while it doesn't have a great look, it is powerful.The users who have used it consistently praise it.What attracts them?Le'ts dive ie into.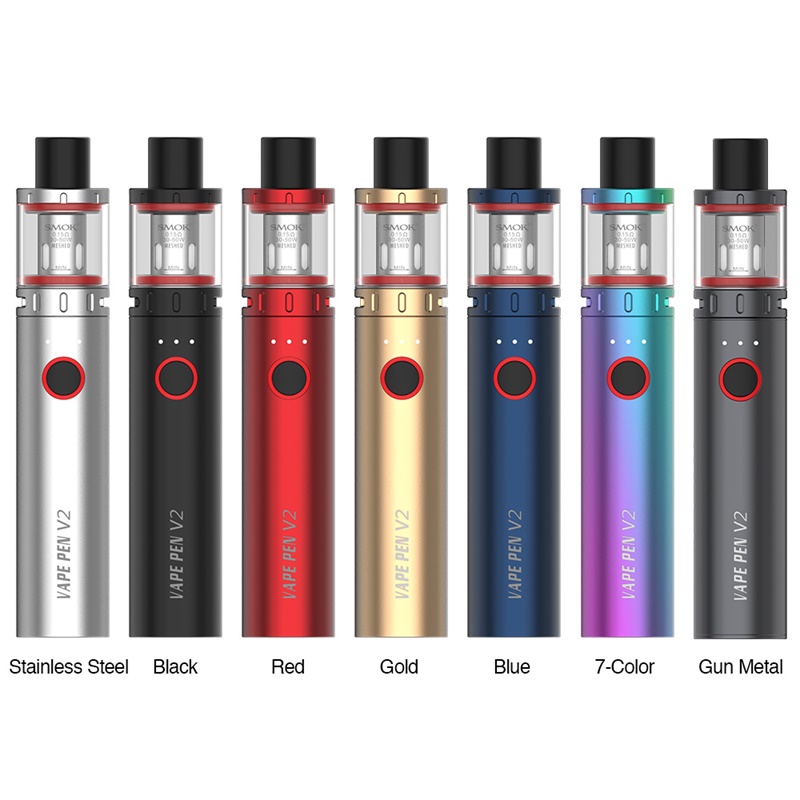 Smok Vape Pen V2 Vape Pen Kit Uk has the power, features, and amazing simplicity to become an immediate winner in anyone's book! Maximum power output of 60 watts, durable 1600 mAh rechargeable battery, 3 mL liquid capacity, and awesome adjustable airflow system in pocket-friendly and portable form!
In addition to its amazing statistics, the SMOK Vape Pen V2 Starter Kit also features compatibility with SMOK's performance oriented Vape Pen V2 replacement coils! Portable, powerful, simple to use; Smok Vape Pen V2 is fully controlled through a user-friendly single button interface!Add to your cart from vape shops uk online cheap.
SPECIFICATION
Diameter:22mm
Height:117.7mm
Weight:94.5g
Battery Capacity:1600mAh
Max Power:60W
Input Voltage:3.3V-4.2V±0.2V
Output Voltage:3.0V-4.0V
Standby Current:<50uA
Load Resistance Range:0.14ohm-3.0ohm
Charging Current:Max 670mA
Charging Voltage:4.3V±0.05V
Over-discharge Voltage:2.4V±0.05V
Overcharge Current:1.7A±0.6A
E-juice Capacity:3ml
Filling Type:Top Filling
Coil & Resistance:Vape Pen Meshed 0.15ohm Coil (Kit included)
Vape Pen DC 0.6ohm Coil (Optional)
Vape Pen 22 0.3ohm dual Coil (Optional)
Vape Pen Strip 0.15ohm Coil (Optional)
Colors:Red, Stainless Steel, Black, 7-Color, Gold, Blue
You may also like: