You will definitely be impressed by its appearance, the SMOK NOVA series is really hard to disappoint you. Let's take a closer look at this SMOK Novo 2S Kit.
The SMOK Novo 2S Kit is powered by an 800mAh built-in battery for the durable and long-lasting function, features a type-c interface to replenish power at any time, and tiny LED lights to remind you of the power status.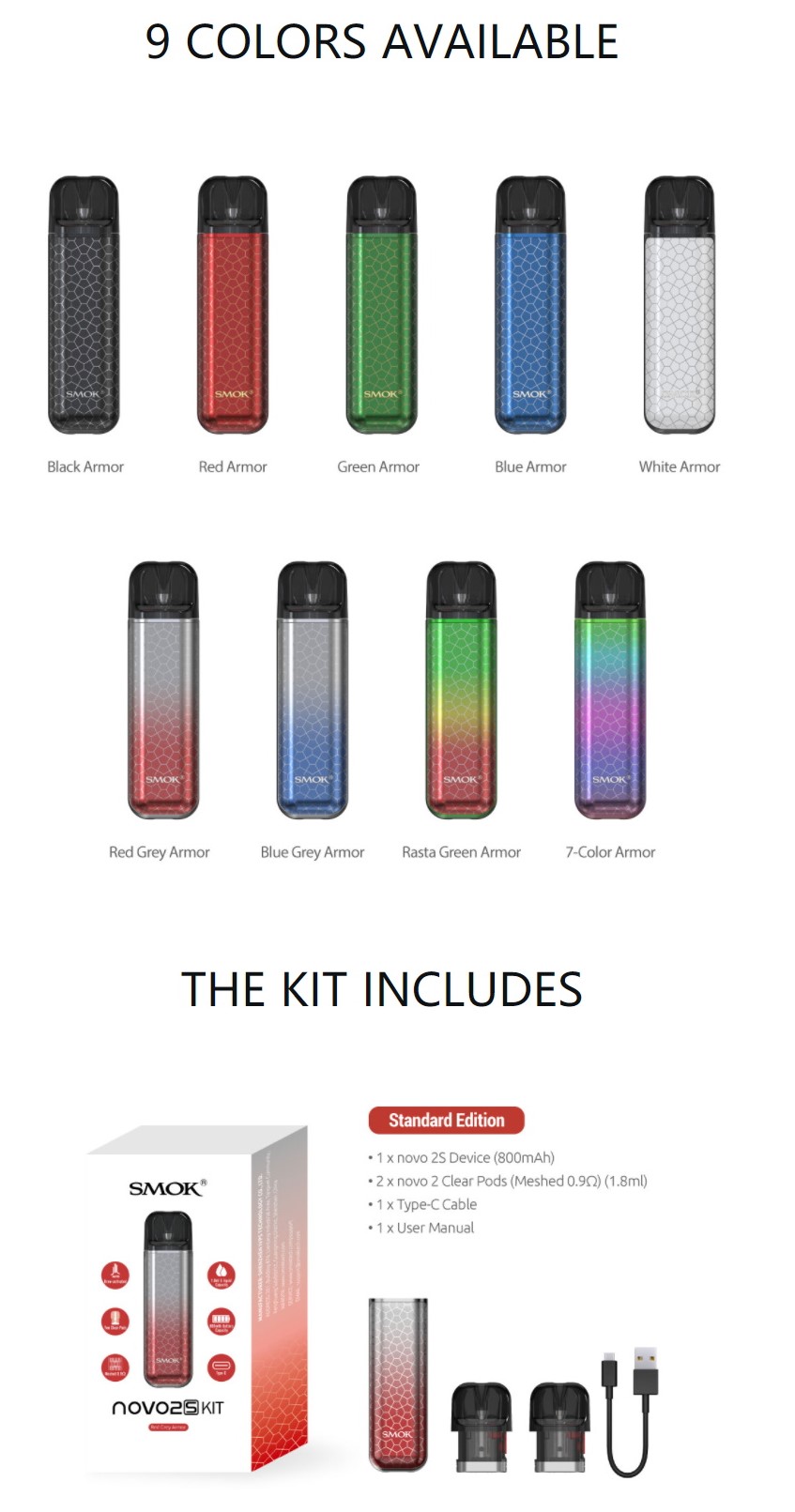 Comes with 9 color options, gorgeous irregular polygonal patterns, and unique color schemes, even have the popular gradient to catch your eyes easily.
The cartridge holds a 1.8ml capacity, coupled with a 0.9ohm mesh coil which has a stable structure for heat evenly and makes full use of e-liquid to get the best taste. Furthermore, the side airflow slots are not really as you see but will give the expected airflow to you, It is smartly designed with the unique bilateral U-shaped airflow channel to realize the bottom-up airflow.
The most wonderful thing is that there are some small grooves around the connection electrodes of the ink cartridge, which are used to collect the condensed water generated during use to prevent leakage.
Are you not excited to see this, go to the UK online vape shop and browse.
SPECIFICATION
Dimension: 24.5mm*14.5mm*91.55mm
Weight: 43g
Battery: 800mAh
Input Voltage: 3.3V-4.2V
Output Voltage: 3.0V-3.5V
Output Wattage: 4W-20W
Resistance Range: 0.6ohm-2.5ohm
Charging Current: MAX 0.5 A
Charging Voltage: 5V±0.2V
Overcharge Voltage: 4.3V±0.05V
Overdischarge Voltage: 2.4V±0.05V
Overcharge Current: 1A±0.6A