Recently, Uwell launched a brand new product of the Caliburn series, a3 caliburn kit. I think users who know Uwell should know that there have been many products in the Caliburn A series in the past. Then I believe that more people want to know the difference between it and the previous electronic cigarettes than to understand this new product. I think you will have a clearer understanding through a detailed comparison.
Refer to appearance design
In fact, the Caliburn series has always had a relatively uniform design style, so it may be difficult for you to tell who they are without telling you. If you want to say the biggest difference between Caliburn A2S and Caliburn A3, A2S is longer in length, and the second is that A3 has added a fire button on the outside to help quickly start the device. The button here can not only help to start but also has the function of a locking device, in order to prevent an accidental start. The A2S does not, so you only need to activate it by inhalation. The aluminium alloy casing is not only light but also very comfortable to hold in the hand.
What are the differences in performance?
In fact, in terms of performance, the difference between the two is not particularly large, except that the uwell caliburn a2s features a maximum output of 15W, while the Caliburn A3 adopts a 13W output, and the battery capacity also uses a 520mAh built-in battery.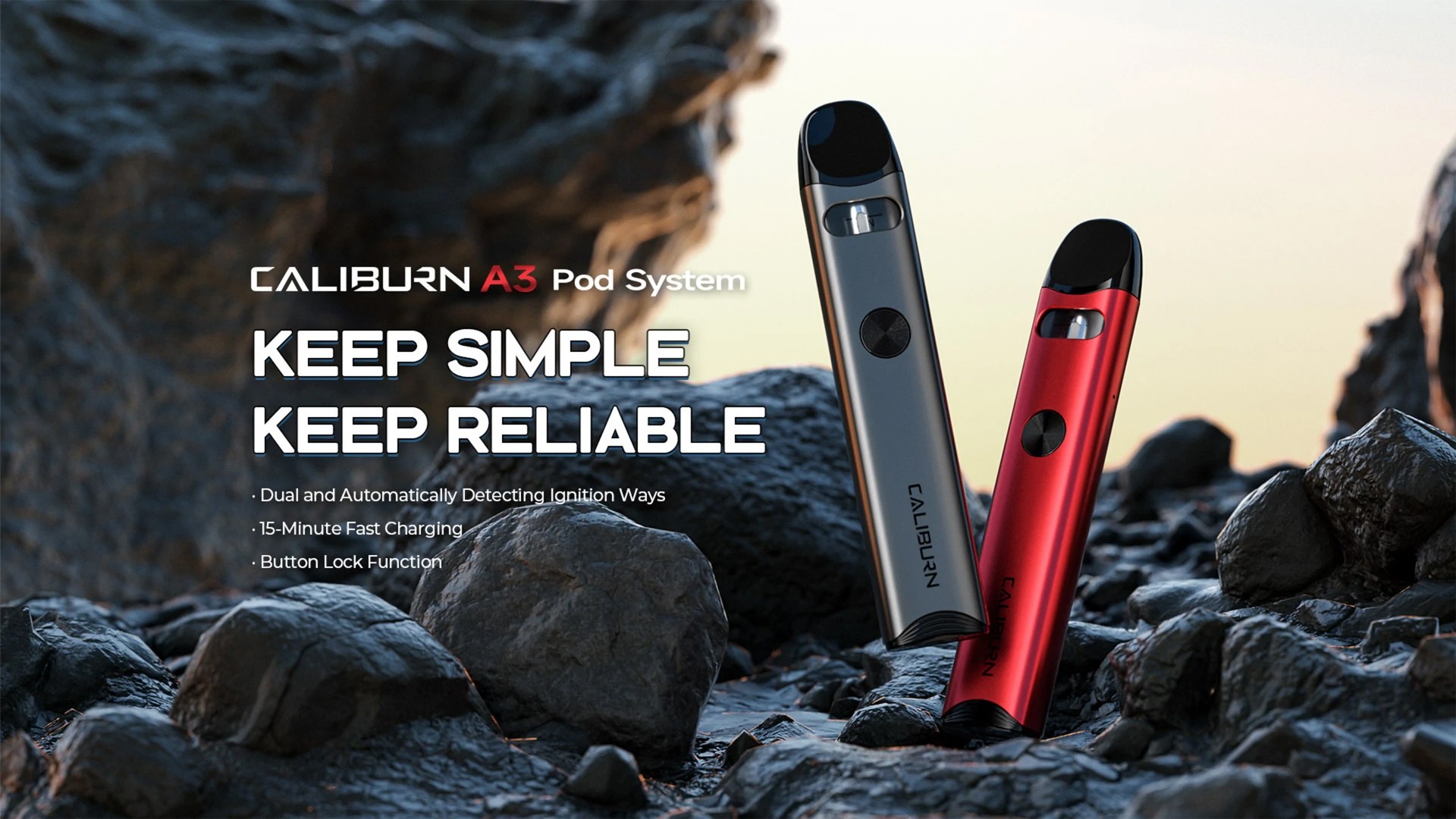 From the configuration point of view
Uwell Caliburn A3 uses an A3 Pod with a translucent viewing window, you can fill the e-liquid directly through the top, and it has an excellent leak-proof system. The 1.0ohm Wangzhuan coil can bring silky MTL vaping. The A2S Pod compatible with Calibrurn A2S can also hold 2ml of e-liquid, and its fully transparent design allows the e-liquid to be displayed more clearly. And you need to do the liquid filling through the side. Both Pods are plug-and-play.
There is also an elaborate design on the bottom of Caliburn A3 is the LED indicator light, when it shows green, blue, and red, it means different battery capacity. Friendly reminder, you can start thinking about charging when the red light is displayed. Uwell Caliburn A3 uses an animated light matrix on the string of CALIBURN, and it will flicker with each inhalation. Of course, the flickering of different colours also means different battery capacities.
It is also charged through type-c, Uwell Caliburn A2S Kit can be fully charged to 90% in 30 minutes and caliburn a3 can be fully charged in 15 minutes. The improvement of usage efficiency is also the importance of product updates.
Summarize
I think through the detailed comparison from inside to outside, you must have a standard in your heart. I think both products have their own characteristics and advantages. The biggest thing they have in common is that they are very suitable for you to take out at any time, without the burden and can Bring an excellent vaping experience.
At vape online uk we have also launched many different types of electronic cigarette products, which are worth your attention.
More hot sale products: