Vaporesso Armour Max Kit – a powerhouse of innovation and performance packed into a sleek and stylish design. This kit is designed to elevate your vaping experience to new heights, and here's why.
Dual Battery Compatibility
With support for both 21700 and 18650 batteries, you have the flexibility to choose your preferred power source. This ensures longer battery life for uninterrupted vaping pleasure.

Uni-lock Functionality
The Uni-lock feature not only serves as an ignition switch but also acts as a lock function, making it easy to keep your device safe and secure when not in use.

Rugged Durability
The full-body TPU protection enhances the durability of the ARMOUR, making it highly resistant to drops and scratches. This means your vape mod will withstand the test of time and daily wear and tear.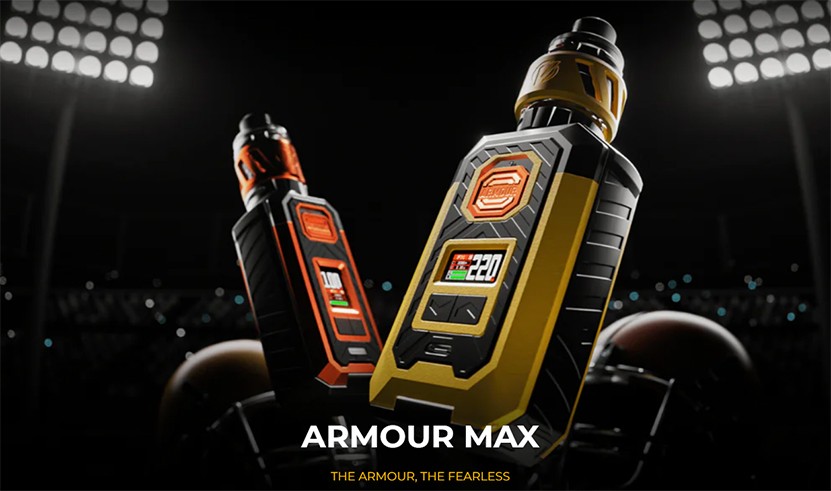 Enhanced Flavor
The COREX technology in this kit is designed to boost the taste of your e-liquids, providing a rich and flavorful vaping experience that will satisfy your taste buds.

Powerful Performance
Equipped with AXON technology, the Armour Max can deliver an impressive power boost, ensuring quick and efficient heating of your coils for intense vapour production.

Ideal for DTL Vaping
This kit is perfect for DTL vaping enthusiasts, delivering massive clouds and intense flavour with every inhale.

User-Friendly Display
The 0.96-inch TFT screen of the armour max box mod displays all your essential vaping data clearly and intuitively, allowing you to customize your vaping experience with ease.

Versatile Modes
With multiple modes to choose from, including Eco Mode, Pulse Mod, F(t) Mode, TC-SS Mode, and TC-NI Mode, you can tailor your vaping style to suit your preferences.

Tank Compatibility
The Vaporesso Armour Max Kit is fully compatible with the 8ml Vaporesso iTank2 Sub Ohm Tank, ensuring a seamless and enjoyable vaping experience.

Furthermore, the Vaporesso Armour Max Vape Mod Kit is a top-tier vaping device that combines power, versatility, and durability. Whether you're a cloud chaser or a flavour connoisseur, this kit has something to offer. Elevate your vaping game with the Armour Max and experience a new level of satisfaction with every puff. We also welcome you to browse more hot-sale vapes at our vape shop.
Best Vapes: